Thursday, February 27, 2014
SU Celebrates Women's History Month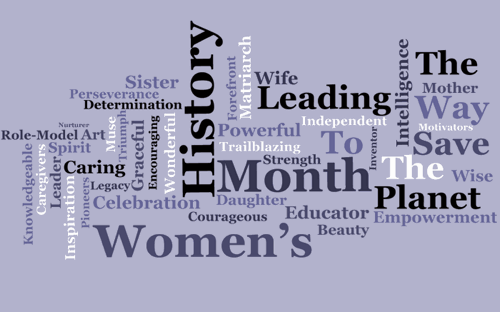 SALISBURY, MD---Salisbury University celebrates Women's History Month with a series of speakers, films and other events in February and March.
This year's theme is "Celebrating Women of Character, Courage and Commitment."
Events begin with a Women in Technology Conference 9:30-11 a.m. Thursday, February 27, in the Wicomico Room of the Guerrieri University Center. Sponsored by the Richard A. Henson School of Science and Technology and STEM: Science, Technology, Education and Mathematics Committee, the conference includes a panel of women from prominent technology corporations such as Google and Microsoft. Panelists encourage female students to pursue careers in STEM areas.
Cindy Hasselbring, two-time National Science Foundation Albert Einstein Distinguished Educator Fellow, keynotes the series 7 p.m. Wednesday, March 5, in Perdue Hall's Bennett Family Auditorium. During her 16-year career as a high school mathematics teacher, Hasselbring earned the Presidential Award for Excellence in Mathematics and Science Teaching and became the only educator selected twice for the Toyota International Teacher Program. She also is a member of the NASA Network of Educator Astronaut Teachers.
"LUNAFEST: Short Films by, for and about Women" continues the series 1 and 5 p.m. Sunday, March 9, in Holloway Hall Auditorium. Nine films — Date with Fate, First Match, Flying Anne, Granny's Got Game, Maria of Many, Running Dry, Sidewalk, Sound Shadows and Tiny Miny Magic — cover subjects as varied as 70-year-old basketball players, romance, disability and female high school wrestlers.
Admission is $25, $15 for SU students with ID. A $5 discount is available for advance purchases. Limited VIP seating is available. Hosted by the Communication Arts Department, proceeds benefit the Life Crisis Center and the National Breast Cancer Fund. For tickets call 410-749-8111, ext. 702, or e-mail jhale@lifecrisiscenter.org. For more information about the films visit www.lunafest.org.
Events turn to the stage with the presentation of That Takes Ovaries 7 p.m. Tuesday, March 11, in the Bennett Family Auditorium. The multicultural performance, based on the international book and play of the same name, includes an open mic, during which audience members are invited on stage to share their stories of bravery.
Eva Paxton and the Salisbury Roller Girls provide a full-contact roller demonstration 7 p.m. Wednesday, March 12, at the Maggs Physical Activities Center. Paxton, founder and captain of the team, became a competitive runner, triathlete, roller skate marathon champion and cancer survivor, all by the age of 19.
The PBS documentary The Pill is screened 7 p.m. Monday, March 24, in the Great Hall of Holloway Hall. The film examines how the U.S. Food and Drug Administration's approval of the sale of the contraceptive pill in 1960 allowed women to pursue careers, fueled the feminist and pro-choice movements, and encouraged more open attitudes toward sex. A discussion with Dr. James Burton of the Communication Arts Department, and Drs. Vonceilia Brown and William Campbell of the Nursing Department follows.
Poet Jane Satterfield reads from her works as part of SU's Writers-on-the-Shore series 8 p.m. Tuesday, March 25, in the Worcester Room of the Commons. The National Endowment for the Arts Fellowship and William Faulkner Society Gold Medal winner's works include Her Familiars, Assignation at Vanishing Point and Shepherdess with an Automatic. Her visit is sponsored by the English Department and Writers-on-the-Shore.
The panel discussion "Trailblazers: Breaking Gender Boundaries" is 7 p.m. Thursday, March 27, in the Bennett Family Auditorium. Panelists include Peninsula Regional Medical Center nurse Jordan Braniff; Michele Burchfield of MBM Group; Salisbury Mayor Jim Ireton; ballet dancer Nolan Seda; and retired U.S. Army Brigadier General Mary Willis. Dr. Marianne Tremaine, visiting professor from Massey University in New Zealand, moderates. Student moderators are Gloria Chibueze-Azinge and Afnan Idris.
The series continues with a screening of the film W.A.R.! Women Art Revolution 7 p.m. Monday, March 31, in the Great Hall of Holloway Hall. Through interviews and archival footage, the film illuminates the movement with roots in the 1960s and the development of women's art in the 1970s. A discussion with Burton and SU Art Galleries Manager Marisa Sage follows.
The series culminates with a talk by famed feminist, artist and social critic Camille Paglia 5 p.m. Tuesday, April 1, in Holloway Hall Auditorium. The author of six books, including the recent Glittering Images: A Journey Through Art from Egypt to Star Wars, discusses "Dada and Surrealism." Her visit is sponsored by the Art Department.
Sponsored by the Women's History Month Committee, admission to all events is free unless otherwise noted. For more information call 410-543-6030 or visit the SU website at www.salisbury.edu.