Thursday, April 19, 2012
SU Celebrates Multicultural Festival Week Monday-Friday, April 23-27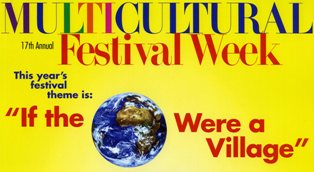 SALISBURY, MD---Salisbury University celebrates Multicultural Festival Week Monday-Friday, April 23-27.
Activities begin with Gull Power Day 11 a.m.-1 p.m. Monday, April 23, in Red Square (rain location: the Link of Nations between the Commons and Guerrieri University Center). Campus community members are invited to express what motivates and drives them to be the person they are or would like to be by chalking it. Participants receive free Gull Power T-shirts while supplies last. SU radio station WXSU provides music.
That evening, Egyptian performance expert Kostana takes viewers on a visual journey through that country's 20th century dance heritage via film clips and live demonstrations at 7 p.m. in the Great Hall of Holloway Hall. Highlights include traditional folkloric and modern Baladi dance, as well as the evolution of the "belly dance" from Egyptian sacred and secular dances. Sponsored by the Office of Cultural Affairs, admission is free and the public is invited.
The Student Government Association Diversity Committee presents its annual Multicultural Showcase 7 p.m. Tuesday, April 24, in Holloway Hall Auditorium. Performers include the SU Poms; Gospel Choir; Organization of Latin American Students (OLAS); Untouchables Dance, Inc.; African Students Association; Squawkappella and Passion 4 Fashion. Admission is free and the public is invited.
Wednesday, April 25, is Muticultural Festival Day. This year's theme is "If the World Were a Village." Activities take place from 11:30 a.m.-3 p.m. on the Sea Gull Square Lawn (rain location: Wicomico Room). An opening ceremony, featuring Hands Across Campus, is at noon. WXSU; Squawkappella; the SU Poms; Untouchables Dance, Inc.; the Gospel Choir and the Steel Kings steel drum band provide entertainment.
During the festival, the SU and greater community may enjoy cultural food samples; Chinese, Arabic and Russian name writing; hip-hop airbrushing; henna tattoos and activities hosted by student organizations. Communication arts students present information on foreign cultures.
Sponsored by the Office of Multicultural Student Services, the Student Organization for Activity Planning, the Multicultural Alliance, the Office of Housing and Residence Life Diversity Team and the Vice President of Student Affairs Office, admission is free and the public is invited.
That evening, multicultural events continue with SU's annual Caribbean dinner from 4:30-7:30 p.m., featuring the Steel Kings. The menu includes crab cakes with citrus salsa; rum-glazed ribs; Jamaican jerk wings; spicy Jamaican potato wedges with sour cream sauce; pigeon peas and rice; grilled corn with lime butter; allspice, onion- and chili-spiced wilted greens; cheesecake with mango sauce; key lime pie; and trembleque.
Co-sponsored by University Dining Services, and the offices of Cultural Affairs and Multicultural Student Services, cost is $10.88, $6.60 for children ages 5 and under.
OLAS and the Office of Multicultural Student Services provides an evening of Latin American rhythms and styles during "So You Think You Can Salsa?" 7-9 p.m. Thursday, April 26, in the Wicomico Room. The event is open to members of the campus community from beginners to experts. Salsa attire is encouraged.
The series concludes with a "Be Me" campaign 1-3 p.m. Friday, April 27, in Red Square. Sponsored by the Multicultural Alliance, the event encourages students to see that their imperfections are the things that make them who they are. Organizers hope the activity will help build self esteem and acceptance of others.
Admission to all Multicultural Festival Week events is free unless otherwise noted. For more information call 410-548-4503 or visit the SU Web site at www.salisbury.edu.