Tuesday, April 16, 2013
SU Celebrates Multicultural Festival Week April 29-May 2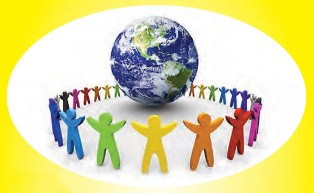 SALISBURY, MD---Salisbury University celebrates its 18th annual Multicultural Festival Week, Monday-Thursday, April 29-May 2.

Activities begin with Gull Power Day 11 a.m.-1 p.m. Monday, April 29, in Red Square (rain location: the Link of Nations between the Commons and Guerrieri University Center). Campus community members are invited to express what motivates and drives them to be the person they are or would like to be by chalking it. Student radio station WXSU provides music.

That evening, samba expert Helena Hill provides lessons in the dance from 5-6 p.m. on the Sea Gull Square Lawn (rain location: Guerrieri University Center, Wicomico Room).

SU students, faculty and staff are honored with the President's Diversity Awards 3:30 p.m. Tuesday, April 30, in the Worcester Room of the Commons. The Student Government Association Diversity Committee hosts its annual Multicultural Showcase at 7 p.m. in Holloway Hall Auditorium. Performers include the SU Poms; Gospel Choir; Organization of Latin American Students (OLAS); Untouchables Dance, Inc.; African Students Association; Squawkappella and Passion 4 Fashion. Admission is free and the public is invited.

Wednesday, May 1, is Muticultural Festival Day. This year's theme is "Roots, Rhyme and Rhythm." The creative poster for the event was designed by senior art major Kim Nyugen, who is currently studying abroad in Italy.

Activities take place from 11:30 a.m.-3 p.m. at the Pergola (rain location: Wicomico Room). Squawkappella; the SU Poms; Untouchables Dance, Inc.; the Gospel Choir; the Greek Steppers; the Mystic Warriors from Colombia, South America; and the Steel Kings steel drum band provide entertainment.

During the festival, the SU and greater community may enjoy cultural food samples; Chinese, Arabic and Russian name writing; T-shirt airbrushing; henna tattoos and activities hosted by more than 20 student organizations.

That evening, University Dining Services presents "Eating on Island Time: A Taste of the West Indies" as part of its International Dinner Series, sponsored in connection with the Cultural Affairs Office. Served from 4:30-7:30 p.m. in the Commons, the dinner features music by the Steel Kings. The menu includes crab cakes with citrus salsa, rum-glazed ribs, Jamaican jerk chicken wings, spicy potato wedges with sour cream sauce, pigeon peas and rice, grilled corn with lime butter, wilted greens, cheesecake with mango sauce, key lime pie and trembleque. Cost is $11.09, $6.73 for children 5 and under. Reservations are not required.

The Organization of Latin American Students (OLAS) concludes Multicultural Festival Week activities with Salsa Night, including free lessons and dancing, 7-9 p.m. Thursday, May 2, in the Wicomico Room.

Sponsored by the Office of Multicultural Student Services, the Student Organization for Activity Planning, the Multicultural Alliance, the Office of Housing and Residence Life Diversity Team and the Vice President of Student Affairs Office, admission to all Multicultural Festival Week events is free unless otherwise noted. The public is invited.

For more information call 410-548-4503 or visit the SU Web site at www.salisbury.edu.