Wednesday, September 18, 2013
SU Celebrates Latino Heritage Month in September and October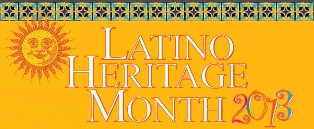 SALISBURY, MD---Salisbury University celebrates Latino Heritage Month with a series of special events in September and October.
Professional salsa dancers Margot and Wayne Faircloth lead "Salsa on the Lawn" lessons Mondays, September 23-October 14. Instruction begins at 5 p.m. on the front lawn of Holloway Hall. Rain location is the Great Hall of Holloway Hall.
Events continue with a showing of the documentary Salsa Revolution 7 p.m. Monday, October 7, in the Great Hall of Holloway Hall. Puerto Ricans and other Latinos in New York reinvent Cuban and Puerto Rican rhythms, adding elements from soul and jazz to create salsa in this film, following the rise and fall of the legendary Fania Records. The screening is part of SU's Revolutionary Film Series.
University Dining Services' annual Hispanic heritage dinner is 4:30-7:30 p.m. Thursday, October 10, in the Commons. The menu includes locro de Argentina (stew with navy beans, chorizo and beef), Cuban chicken fricassee, seafood with brandy cream, rice, potatoes with chorizo, green beans with garlic and tomato, mock-a-rita punch, tres leches cake, key lime pie and vegan Mexican wedding cookies. Cost is $11.53, $7 for children age 5 and under.
A performance by the multiple Grammy and Billboard Latin Music award-winning Spanish Harlem Orchestra follows the dinner at 7 p.m. in Holloway Hall Auditorium. Led by pianist Oscar Hernández, who has performed, arranged and directed Tito Puente, Celia Cruz, Julio Inglesais, Paul Simon and others, the Spanish Harlem Orchestra has been at the forefront of a resurgence of interest in salsa music that emerged from New York in the 1960s and '70s.
The orchestra's performance at SU is funded through the Mid-Atlantic Tours program of the Mid-Atlantic Arts Foundation with support from the National Endowment for the Arts and the Maryland State Arts Council.
Sponsored by the Cultural Affairs Office, admission to all Latino Heritage Month events at SU is free unless otherwise noted. The public is invited.
For more information call 410-543-6271 or visit the SU website at www.salisbury.edu.