Thursday, March 29, 2007
SU Celebrates Islam Awareness Week April 12-20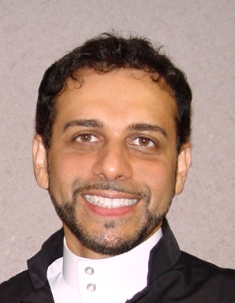 Hassanain Rajabali

SALISBURY, MD---Salisbury University's third annual "Building Bridges: Islam Awareness Week" returns to its roots with a series of talks by guest speaker Hassanain Rajabali, scholar-in-residence.

An internationally-acclaimed Islamic expert and principal of the Tawheed Institute of New York, Rajabali was a guest speaker during SU's first Islam Awareness Week in 2004. He returns to give three public talks, each 6-7:30 p.m.

On Wednesday, April 18, in Henson Science Hall Room 103, he delivers the talk "Evolution in Islam." On Thursday, April 19, in the Wicomico Room of the Guerrieri University Center, he speaks on "Islamic Philosophy on Mankind's Purpose on the Earth."

His talks culminate Friday, April 20, in the Great Hall of Holloway Hall with "The Holy Qur'an: Last Divine Revelation--Scientific Approaches," followed by a closing reception and Middle Eastern snacks in the Social Room of Holloway Hall.

Other events include an open mic night "For Justice and Peace on Earth" 5 p.m. Thursday, April 12, in the Worcester Room of the Commons. A screening of the film Invisible Children, chronicling the plight of child soldiers in Uganda, follows from 6-7:30 p.m. The event also features a presentation by the Invisible Children Movie Team.

An Islamic book fair and free writing of names in Arabic is 10 a.m.-3 p.m. Monday, April 16; 10 a.m.-2 p.m. Tuesday, April 17; and 10 a.m.-1 p.m. Wednesday, April 18, in the Commons. Muslim artists showcase Arabic calligraphy and scenic drawings from 11 a.m.-3 p.m. Monday, April 16, in the Link of Nations between the Commons and Guerrieri University Center. The presentation "Islam 101" is 6:30-8:30 p.m. in Fulton Hall Room 111.

The concert and workshop "We Are All Related-Sounds From Around the World," featuring International folksinger and multicultural performing artist Daria, is 1:30-2:30 p.m. Wednesday, April 18, in Caruthers Hall Auditorium. Co-sponsored by the Office of Multicultural Student Services, the concert includes instrumental world music. Daria also performs following Rajabali's lecture on Thursday night.

Rajabali leads a Jumaa Salaat (Muslim congregational prayer) at 1 p.m. Friday, April 20, in the Spirituality Center of the Guerrieri University Center. He speaks on "Shia/Sunni: Muslim Unity."

These activities are co-sponsored by the Muslim Student Association with support from Office of the
President; Office of the Provost; Vice President of Student Affairs; Multicultural Student Services; Office of Student Activities, Organizations and Leadership; and the Fair Practices Office. All events are free and the public is invited.

For more information call 410-543-6030 or visit the SU Web site at www.salisbury.edu.