Wednesday, August 31, 2016
SU Celebrates Hispanic Heritage Month Beginning September 15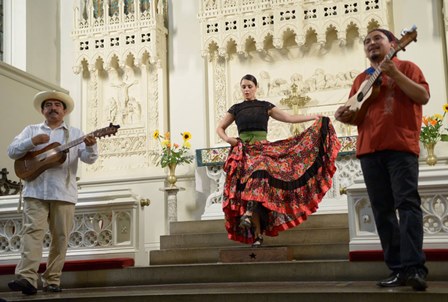 SALISBURY, MD---From regional music to traditional cuisine, Salisbury University offers multiple ways to celebrate during its 2016 Hispanic Heritage Month Festival in September and October.

All performances are 7 p.m. in Holloway Hall.

The festival begins with SU Dining Services' annual Hispanic Heritage Dinner from 4:30-7:30 p.m. Thursday, September 15, in the Commons.

The menu includes grilled flank steak with chimichurri sauce, enchiladas with salsa verde, queso fresco, Mexican corn on the cob (with grated cotija cheese, mayonnaise and cayenne pepper), Mexican rice, sopapillas and tres leches cake. Part of SU's International Dinner Series, cost is $12.98, $7.87 for children age 5 and under.

That evening, Radio Jarocho performs in the Great Hall of Holloway Hall. The group plays "son jarocho" music fashioned after the towns, musicians and swampy countryside of Veracruz, Mexico. Several influences have shaped the band's music, creating a contemporary repertoire that captures the spirit of the traditional style.

Its members have performed at venues including the Kennedy Center for the Performing Arts. Radio Jarocho's SU concert is sponsored by World Artists Experiences and the Cultural Institute of the Embassy of Mexico in Washington, D.C.

The festival culminates with the Guadalajara-based band Troker on Tuesday, October 4, in Holloway Hall Auditorium. The group produces a blend of composed music and improvisation, merging metal riffage with powerhouse funk drumming, DJ scratching and horn lines that pull from jazz and the mariachi tradition of the band's homeland.

The concert is made possible through Southern Exposure: Performing Arts of Latin America, a program of the Mid-Atlantic Arts Foundation in partnership with the National Endowment for the Arts.

Sponsored by the Cultural Affairs Office, admission to all events is free unless otherwise noted. The public is invited. For more information call 410-543-6271 or visit the SU website at www.salisbury.edu.