Friday, March 4, 2016
SU Celebrates Eastern Shore Trombone Day Monday, March 9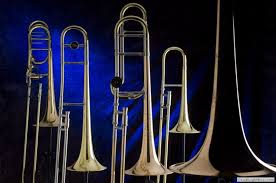 SALISBURY, MD---In 1957, playwright and composer Meredith Wilson gave trombones their due in his Tony Award-winning musical The Music Man.

More than half a century later, organizers of the second annual Eastern Shore Trombone Workshop at Salisbury University on Wednesday, March 9, are working to keep the instrument's reputation going strong.

Area musicians are invited to a free jazz concert with trombonists and music faculty Lee Knier of SU; Drs. Isrea Butler, Brian Perez and Brian Dean of the University of Maryland Eastern Shore. Guest trombonist and jazz recording artist Michael Dease performs with the faculty and SU and UMES students during the concert. The performance begins at 7:30 p.m. in the Great Hall of Holloway Hall.

Events start at 4:30 p.m. with a vendor display featuring Dillon Music, and Michael Rath Custom Trombones and accessories. A workshop for trombonists begins at 6 p.m.

Sponsored by the SU Music, Theatre and Dance Department, the public is invited. For more information call 410-543-6385 or visit the SU website at www.salisbury.edu.