Thursday, April 10, 2014
SU Celebrates Earth Week April 21-25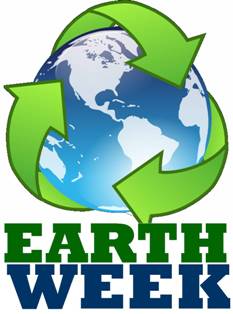 SALISBURY, MD---Salisbury University commemorates Earth Week, April 21-25, with a series of special events including a film, expert speaker, recycling competition and festive celebration.
Activities begin Monday, April 21, with the return of the Student Government Association's (SGA's) popular Recycle Madness event, scheduled noon-4 p.m. in Red Square. Students are encouraged to bring clean aluminum cans, glass bottles, plastic, cardboard, paper and tin to the collection site, with prizes for Registered Student Organizations that bring in the most recyclable items.
The SGA's annual Earth Day celebration is 1-3:30 p.m. Tuesday, April 22, at Sea Gull Square. Student organizations and local vendors share environmental information, games, and arts and crafts. The event includes presentations from environmental studies students and a bicycle registration booth hosted by University Police. Admission is free and the public is invited.
The Student Organization for Activity Planning (SOAP) screens the 2008 film Wall-E 9 p.m. Wednesday, April 23, in Devilbiss Hall Room 123. Directed by Andrew Stanton, the Academy Award-winning Disney-Pixar movie follows a small robot in a dystopian future, charged with cleaning up Earth hundreds of years after an abundance of garbage has left the planet uninhabitable.
Maryland Energy Administration Director Abigail Ross Hopper speaks on "Energy Efficiency in Maryland" 6 p.m. Thursday, April 24, in Henson Science Hall Room 243. Her presentation is part of SU's "Energy and Sustainability" series. Sponsored by the Smart Growth Club and Wicomico Environmental Trust, admission is free and the public is invited.
Earth Week events conclude Friday, April 25, with a celebration of the first anniversary of the Maryland Off Shore Wind Energy Act in Perdue Hall Auditorium.
Co-hosted by SU's Business, Economic and Community Outreach Network (BEACON), the Business Network for Maryland Offshore Wind and the Maryland Energy Administration, the day-long conference begins at 7:30 a.m. and features speakers from multiple state agencies and corporations including General Electric and Siemens.
Sponsored by the Maryland Department of Business and Economic Development and the Salisbury Area Chamber of Commerce, registration is $115 per person before Tuesday, April 15, $145 after. To register or for more information visit https://www.eventbrite.com/e/maryland-offshore-wind-industry-turns-one-tickets-10754391675.
For more information about Earth Week events call 410-543-6030 or visit the SU website at www.salisbury.edu.