Friday, March 12, 2010
SU Celebrates 2010 Green Earth Book Awards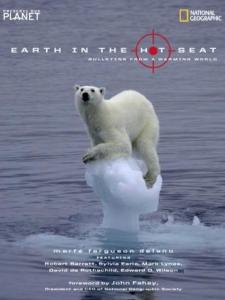 SALISBURY, MD---As National Geographic Society President and CEO John Fahey writes in the forward to Earth in the Hot Seat: Bulletins from a Warming World: "Climate change is here. It's not something that might happen in the faraway future, it's happening now. … The state of the planet is in our hands. It's up to us all—grown-ups and kids alike—to ensure that it stays a wonderful world for generations to come."
This book examines the science behind global warming and calls people to take responsibility for the Earth. Efforts such as this, to promote environmental stewardship among readers—young and old—inspired the Newton Marasco Foundation to establish the Green Earth Book Award in 2005.
Every year, the non-profit environmental charity partners with Salisbury University to recognize
green-minded authors and illustrators with the award, the nation's first to laud environmental stewardship in children's and young adult literature.
Earth in the Hot Seat, the non-fiction category honoree by Marfe Ferguson Delano, is one of four Green Earth Books (and nine honor books) recognized in 2010.
For children's fiction, the winner is S. Terrell French's Operation Redwood, which follows a group of kids working together to stop the destruction of a redwood tree forest. The young adult fiction honoree is the The Carbon Diaries: 2015 by Saci Lloyd, a futuristic diary chronicling the challenges of living with mandated carbon rations. The picture book winner is Miss Fox's Class Goes Green by Eileen Spinelli and illustrator Anne Kennedy.
"The 2010 Green Earth Book Award goes to authors who have captured the essence of stewardship," said Amy Marasco Newton, the foundation's president and founder. "Through their words and
illustrations, these books not only raise awareness of environmental issues, but also instill a sense of responsibility for nurturing, protecting and defending the natural environment. I encourage educators, parents, grandparents and youth clubs to include these books in their programs to help spread the word of what the next generation of environmental stewards can accomplish!"
Recipients will participate in the Children's and Young Adult Literature Festival at SU. On Thursday, April 8, they will sign books at a 7 p.m. reception in the Social Room of Holloway Hall. On Friday, April 9, Spinelli and Kennedy will lecture at 9 a.m., French at 10 a.m. and Delano at 1 p.m., all in the Teacher Education and Technology Center, Room 153. On Saturday, April 10, they will sign books from 10 a.m.–12:30 p.m. at Barnes & Noble Booksellers in Salisbury.
More than 127 books were considered this year by 12 judges from across the country including scientists, teachers, librarians, representatives from the
Environmental Protection Agency, and Drs. Ernie Bond and Patricia Dean of SU's Teacher Education Department. Each winning author and/or illustrator receives $2,000. Green Earth books are also being donated to SU's Curriculum Resource Center and Blackwell Library, and to 150 students at Pinehurst and Pemberton elementary schools, and Mardela and Salisbury middle schools.
The awards are supported by SU and NMF's sustainable corporate partners, including Project Performance Corporation, Booz Allen Hamilton and Tetra Tech. For more information visit www.newtonmarascofoundation.org.
For details about the festival call 410-543-6509 or visit the SU Web site at www.salisbury.edu.