Friday, August 20, 2010
SU Campus Goes Smoke-Free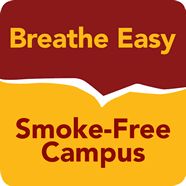 SALISBURY, MD---Last fall Bobby Audley, a senior from Syracuse, NY, sat in an SGA Forum listening to Salisbury University students from Colleges Against Cancer (CAC) promote a smoke-free campus. The message hit home.
Audley, who plays club lacrosse and will run the Baltimore marathon this fall, saw his outdoorsman grandfather, who played football at Colgate, slowly die of lung cancer after a lifetime of pipe and cigar smoking.
Lauren Friedman, a senior from Burtonsville, MD, and Eric Kennedy, a senior from Cinnaminson, NJ, co-presidents of CAC, had been promoting a smoke-free campus since 2008. "Any time you walked in Red Square, or got stuck walking behind someone between Henson and Wicomico or Pocomoke halls, chances were you were taking in huge amounts of smoke from someone around you. I hated that," said Friedman.
Their campaign gained momentum with the help of Audley and others. Together they crafted a resolution and presented it to university governance groups. "Over 300 campuses across the country have similar resolutions," Audley said, "which we researched and then came up with our own."
Their first hurdle was the Student Government Association (SGA) in October 2009. Initial questions were met with more information and lots of conversations. By the time of a second reading, their resolution had gained overwhelming approval from student representatives, and other students voting in a referendum. Ultimately, a majority of campuswide governance groups approved. On August 22, 2010, SU officially becomes smoke-free.
Earlier this month, the Human Resources Office, in partnership with the Counseling Center, conducted a faculty and staff survey on smoking patterns, the first step in crafting cessation clinics which will begin in September. As part of initial campus implementation, a handful of selected smoking areas for resident students will be available during the fall semester from midnight-6 a.m.
Under the new policy, a $75 fine may be levied on faculty, students and staff who smoke on campus. In early fall, during the initial implementation, fines may be waived for smokers who agree to attend a cessation program. After a warning, visitors who continue to smoke may be issued a one-year no trespass order.
On Wednesday, September 1, from 11 a.m.-2 p.m., as part of Welcome Week, SU kicks off its "Breathe Easy" campaign in Red Square. The Counseling Center, Student Health Services and community health organizations will provide information and answer questions about going smoke-free. Co-sponsored by the Student Affairs Wellness Committee, SGA, CAC and Healthy U of Delmarva, the event will feature giveaways, light refreshments and games. This fall, students may learn more about a Student Task Force that will work to ensure the success of the transition to a smoke-free campus.
Last year, the American College Health Association announced its support of tobacco-free campuses. Towson's campus goes smoke-free this fall, and leaders at other University System of Maryland institutions have indicated an interest in the new policies. The National Cancer Institute found that a smoke-free workplace increased the success rate of smokers attempting to quit. Workplace productivity also increased and absenteeism decreased among former smokers compared with current ones.
According to the 2006 Surgeon General's Report, there is no risk-free level of exposure to secondhand smoke. Toxic and carcinogenic chemicals in secondhand smoke may cause approximately 3,400 deaths from lung cancer and between 22,000-69,000 deaths from heart disease yearly, according to estimates from the American Lung Association.
For a map of smoking areas for resident students, or more details about policies and programs, visit www.salisbury.edu/smokefree.