Wednesday, November 10, 2010
SU Cadets Achieve Excellence at Army Course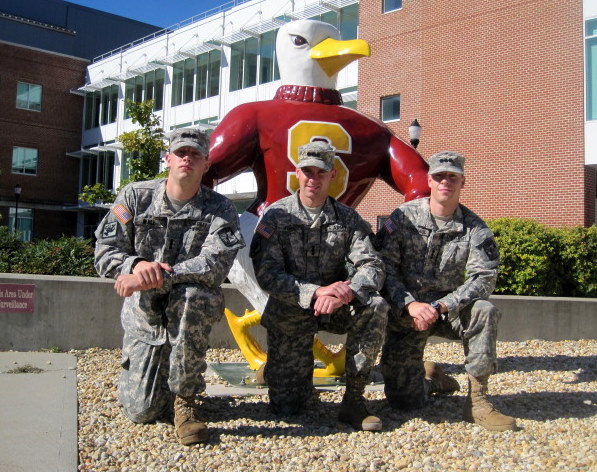 SALISBURY, MD---Three senior cadets in Salisbury University's Army Reserve Officers' Training Corps (ROTC) program recently represented the campus in the U.S. Army Leadership Development and Assessment Course in Fort Lewis, WA.
Cadets David Tobin of Havre De Grace, MD, Kristopher Mall of Hawley, PA, and Andrew Robichaud of Annapolis, MD, completed the 33 day course in the top ten percent.
"All three SU cadets received "E" ratings, two finished with an overall excellence mark, and two also received the challenging 'recondo' badge for excellent physical strength and placement in the top 90th percentile in all events," said 1st Lieutenant David Engelman, who leads the SU program. He uses his past training in Light Infantry and Ranger units to refine the cadets' skills.
The course is designed to mentally and physically challenge cadets and test for leadership abilities. Cadets are assessed on field leadership in small unit tactics, land navigation, battle planning, garrison duty positions, water survival, physical fitness tests, and counter insurgency operations. The course impacts cadets receiving jobs and duty locations of choice.
Between 5,000 and 6,500 cadets attend the course each summer. In summer 2010, all 16 students who attended with the University of Delaware Fighting Blue Hen Battalion, which includes SU, lead the 3rd brigade in best performance, based on their perfect pass rate and overall achievement. The 3rd brigade consists of over 38 schools in South Carolina, North Carolina, West Virginia, Virginia, Delaware and Maryland.
Salisbury University's ROTC program was reinstated in 2008 after nearly a decade. It is an elective curriculum that students take along with their required classes and provides the necessary tools, training and experiences to help students succeed in any competitive environment.
For more information call 410-543-6031 or visit the SU Web site at www.salisbury.edu.