Tuesday, October 9, 2012
SU Business Case Study Draws International Attention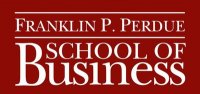 SALISBURY, MD---A business case study co-authored by Dr. Frank Shipper, chair of Salisbury University's Management and Marketing Department in the Franklin P. Perdue School of Business, is drawing national and international attention.

With co-authors Benita Harris, associate pastor of Asbury United Methodist Church in Salisbury; Karen Manz, independent author and researcher; and Charles Manz, professor at the University of Massachusetts — Amherst; Shipper examined the "boundaryless" management style of Equal Exchange, the world's largest exclusively Fair Trade company.

According to the study, "Equal Exchange: Doing Well By Doing Good," the company uses collaboration to solicit ideas and proposals from all levels and functions within the organization, and from customers and suppliers, too.

"Being financially successful, paying people a fair wage and protecting the environment can be accomplished simultaneously when collaboration is used to bring out the best in all," the authors said.

Dr. Craig Pearce, dean of the American University of Nigeria's School of Business and Entrepreneurship, and director of its Center for Social and Business Entrepreneurship, called the study, "an incredibly interesting case," adding that he was "thoroughly intrigued by this organization." He said he would be interested in eventually trying to stimulate the development of Fair Trade cooperatives in Nigeria.

The case is also planned for inclusion in two upcoming books from Cengage Learning: Competing for Advantage and Understanding Business Strategy, both by R.D. Ireland, R.E. Hoskisson and M.A. Hitt.

For more information call 410-543-6030 or visit the SU Web site at www.salisbury.edu.