Friday, November 30, 2012
SU Business Case Study Continues to Draw National Attention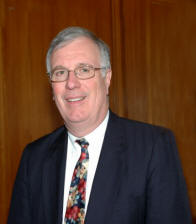 SALISBURY, MD---A business case study co-authored by Dr. Frank Shipper, chair of Salisbury University's Management and Marketing Department in the Franklin P. Perdue School of Business, continues to draw national attention.

With co-authors Benita Harris, associate pastor of Asbury United Methodist Church in Salisbury; Karen Manz, independent author and researcher; and Charles Manz, professor at the University of Massachusetts — Amherst; Shipper examined the "boundaryless" management style of Equal Exchange, the world's largest exclusively Fair Trade company.

.: Related Sites :.

.: Related News :.

According to the study, "Equal Exchange: Doing Well By Doing Good," the company uses collaboration to solicit ideas and proposals from all levels and functions within the organization, and from customers and suppliers, as well.

The Aspen Institute Center for Business Education recently published the study on its Case Place Web site, available to at http://caseplace.org/d.asp?d=6762. Based on his research, Shipper also recommended the business for inclusion in the documentary We the Owners: Employees Expanding on the American Dream, produced by the Foundation for Enterprise Development. For this and other assistance, he is listed in the credits as a contributor. It is scheduled for limited release in January 2013 and wider release in March.

For more information call 410-543-6030 or visit the SU Web site at www.salisbury.edu.