Thursday, March 4, 2010
SU Breaks Ground on First Residential-Retail Complex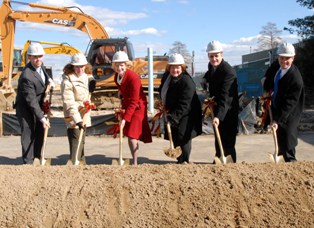 From left: Pat Gotham, SU Student Government Association president; Betty Crockett, SU vice president of administration and finance; Dr. Ellen Neufeldt, SU vice president of student affairs; SU President Janet Dudley-Eshbach; Richard A. "Rick" Givens, II, chair of the SU Foundation, Inc.; and Blair Rinnier, vice president of Rinnier Development Company.

SALISBURY, MD---In a festive ceremony Salisbury University officially broke ground on the campus' new Sea Gull Square (SGS) residence hall and retail complex—the first residence hall to be built on main campus in two decades.

At 230,000 square feet, the five-story, $45 million project, located on the site of the former Allenwood Shopping Center, also will become main campus's largest residence hall with 605 beds. SGS has twice the beds and over four times the square footage as St. Martin's Hall, the next largest. SGS will house upperclassmen in 156 apartment-style units with a variety of floor plans and layouts.

"I believe Sea Gull Square will have a transformational effect on Salisbury University and the surrounding community," said SU President Janet Dudley-Eshbach. "This 'Main Street-style,' mixed-use complex will provide a welcoming introduction to the University from the south and complement the recently opened Teacher Education and Technology Center at the north end of campus. Sea Gull Square addresses our need for more student housing, while its commercial retail space will serve the surrounding community as well, adding to the progressive development of both the University and the City.

"Sea Gull Square is a public-private collaboration and would not have been possible without the support of the SU Foundation, which was visionary in its purchase of the original property; the University System of Maryland Board of Regents; and Rinnier Development Company in partnership with R. Clayton Emory."
Some 23,000 square feet are dedicated to ground-floor retail space, which Rinnier and Emory are developing. Construction is expected to be completed in July 2011.
"The University is thrilled to break ground on this exciting project," said Dr. Ellen Neufeldt, vice president of student affairs. "Sea Gull Square will offer many contemporary amenities that students today expect, including a fitness center, single rooms and modern lounges. Apartments will be equipped with private bedrooms, full kitchens, a common room, and washers and dryers. Much more than the traditional dormitory that many parents remember, it will provide the physical space and atmosphere for a true living-learning experience."
Other features include a SMART classroom, as well as a faculty office and apartment on the ground floor.
Named for SU's mascot, Sea Gull Square is the campus' first mixed-use complex. The project addresses the need for student housing identified by a 2007 Student and Resident Life Needs Assessment.
The University currently has nine permanent residence halls and also offers campus-affiliated housing across Route 13 at University Park, a public-private partnership which has some 900 beds. With the addition of Sea Gull Square, nearly 40 percent of SU undergraduates will now live on campus, well above the national average, Neufeldt said.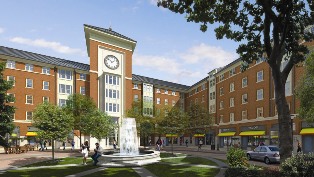 The new beds also give more upperclassmen opportunities to remain on campus for the duration of their time at SU. National studies show that undergraduates who live on campus have higher retention rates than those who do not.
Upholding SU's commitment to sustainability, the University is pursuing the U.S. Green Building Council's LEED Silver Certification for the facility. Efforts include recycling the majority of waste from demolition and construction, incorporating bicycle storage rooms to encourage "green" transportation and adding a roof that mitigates heat island effect. The building also features energy-efficient HVAC equipment, Energy Star-rated apartment appliances, recycled textile flooring and low volatile organic compound paint.
According to developer Blair Rinnier, the brick complex's traditional academic architecture will complement the TETC. A visual focus will be an attractive outdoor courtyard with green space featuring a town square with a fountain and clock tower facing Route 13.
"My family and development team are honored and excited to be selected as the University's partner in this project," Rinnier said. "The University has been a part of my family's life for generations and we are committed to the success of this partnership."
Rinnier leads an experienced team including WDG Architecture of Washington, D.C., and general contractor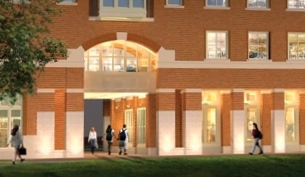 Whiting-Turner of Baltimore. WDG is a national award-winning firm that has designed such projects as National Harbor and the University Town Center in Hyattsville, MD. Whiting-Turner built SU's new parking garage and has constructed major projects at campuses including Georgetown and Stanford.
"The University is grateful to be working with the Rinnier team," said Betty Crockett, vice president of administration and finance. "Along with the TETC and the soon-to-be new home for the Franklin P. Perdue School of Business, Sea Gull Square will dramatically change of the skyline of Route 13 in a way which, I believe, all members of the community can take pride."
For more information, call 410-543-6030 or visit the SU Web site at www.salisbury.edu.