Monday, March 18, 2013
SU Art Space Showcases Work by Lyndsay Lewman April 5-29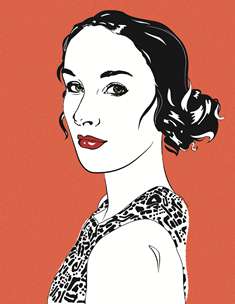 SALISBURY, MD---The Guerrieri University Center Art Space showcases the work of senior art and marketing and management major Lyndsay Lewman in the solo exhibit "Self Image" April 5-29.

A reception is 4-6 p.m. Thursday, April 11.

Lewman, a graphic designer, sees the medium as "the window through which consumers can experience art in their everyday lives.

"In this exhibition, I chose to explore a few concepts and techniques that have always intrigued me: the combination of studio self-portraiture and digital media, and the exploration of self-perception," she said.

Through a series of self-portraits and a falsified online presence, she hopes to explore self-image through her own eyes, anticipating that her behaviors, actions, confidence, introspection and appearance will change as a result of how she sees herself (the actual image), how she hopes to see herself (the ideal image) and how she would like to be seen by others (the social image).

The Art Space is located in the Guerrieri Center's second-floor lounge. Admission is free and the public is invited. For more information call 410-543-6247 or visit the Art Space Web site at http://www.salisbury.edu/guc/artspace.