Monday, July 22, 2013
SU Art Galleries Presents 'This Land' Exhibit July 19-September 20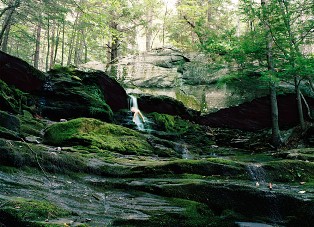 'Phantom Limbs' by Megan Cump

SALISBURY, MD---"This land was made for you and me."

Many recognize this lyric from the iconic Woody Guthrie song "This Land Is Your Land" … but what about the assumption it presents, that the natural world exists to serve mankind?

Salisbury University Art Galleries explores that sentiment during the exhibition "This Land," from July 19-September 20. Works are displayed at the University Gallery at Fulton Hall and at the SU Art Galleries Downtown Campus, 118 N. Division St.

Artists featured include Rachel Abrams, Vaughn Bell, Constance Costigan, Megan Cump, Kevin Fitzgerald, Eric LoPresti, Dan Mills, Mark Nystrom, Courtney Puckett, Gwyneth Scally, Claire Sherman and Peter Stern. Their artworks explore mankind's relationship with nature, presenting nuanced views of how the land is shaped, both physically and figuratively, by human activities and how it, in turn, shapes mankind.

Most of the artists in the show live and work in New York, but many have connections to Maryland and this area specifically. Fitzgerald and Costigan are Delmarva artists, and Peter Stern lives and works in the Baltimore area.

The exhibition includes paintings, sculptures, drawings, photographs and computer-generated art. Those viewing the exhibit will have the opportunity to adopt their own small piece of "land" with Bell's "Pocket Biosphere" project.

"Regardless the form, these artists' works engage with nature and landscape in thoughtful ways," said Elizabeth Kauffman, galleries director.

Several events accompany the exhibition They include:

• Khristian Weeks performance and installation, Salisbury Arts & Entertainment District Third Friday, August 18, 8 p.m., downtown campus;

• Panel discussion "Land, Landscapes and Earthly Visions: A Scholarly and Artistic Interchange" 7-9 p.m. Wednesday, September 4, Fulton Hall Room 111;

• Tatsuya Nakatani performance 8 p.m. Thursday, September 19, downtown campus; and

• Closing reception, Third Friday, September 20, 5-8 p.m.

Admission is free and the public is invited. For more information, including gallery hours, call 410-548-2547 or visit the SU Art Galleries Web site at www.salisbury.edu/universitygalleries.