Wednesday, February 17, 2016
SU Art Galleries Presents 'Mixtape' by Visiting Artist Michael Hubbard February 18-April 22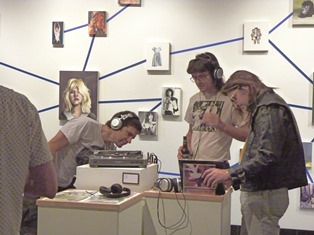 SALISBURY, MD---Salisbury University visiting artist Michael Hubbard takes viewers on a visual and audio journey through the exhibit "Mixtape" February 18-April 22 in SU's Electronic Gallery, Teacher Education and Technology Center (TETC) Room 128.

An artist talk is 5:30 p.m. Thursday, February 18, in TETC Room 153. A reception immediately follows at the gallery.

Hubbard's work features paintings and illustrations tracing a lineage of punk rock feminists, starting with the "Riot Grrrl" bands of the 1990s and following their wild and angry energy into current social and political movements. The collective work aims to present an imaginary architecture of feminist resistance, connecting disparate times and places through music and political activism.

The installation features handmade artist books, a listening station and collaboration with SU students. Hubbard's work has been featured throughout the U.S. and in Korea.

Sponsored by SU Art Galleries, admission is free and the public is invited. Gallery hours are 9 a.m.-7 p.m. Tuesday-Wednesday, 11 a.m.-4 p.m. Thursday-Saturday.

For more information call 410-548-2547 or visit the SU Art Galleries website at www.salisbury.edu/universitygalleries.