Monday, April 6, 2015
SU Art Galleries Presents 'Joke Book Drawings' by Meredith Lynn April 30-May 30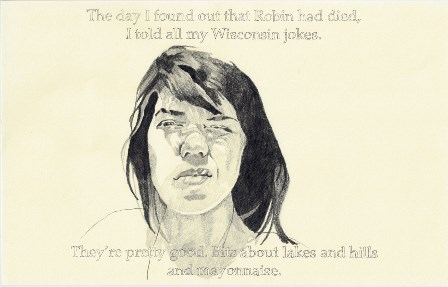 SALISBURY, MD---"The day I found out that Robin had died, I told all my Wisconsin jokes. They're pretty good. Bits about lakes and hills and mayonnaise."

That's just one of the statements made by artist Meredith Lynn in her exhibit "Joke Book Drawings," on display from April 30-May 30 at the Salisbury University Art Galleries Downtown Campus.

An opening reception is 6:30-8 p.m. Thursday, April 30.

The exhibit of graphite drawings represents an exploration of grief and place following the news that Lynn's college roommate had killed herself in the parking lot of a Virginia hospital. The artist's use of repetition and repurposing of imagery emphasize the universal aspects of the grieving process.

Earning her M.F.A. from the University of Iowa in 2011, Lynn has exhibited throughout the United States. Her work is part of public and private collections in New York, Minnesota and Iowa. She currently serves as interim executive director of the Rourke Art Museum in Moorhead, MN.



Gallery hours are noon-6 p.m. Wednesday-Friday, noon-4 p.m. Saturdays. Sponsored by SU Art Galleries, admission is free and the public is invited.

For more information call 410-548-2547 or visit the SU Art Galleries website at www.salisbury.edu/universitygalleries.