Thursday, May 1, 2014
SU Art Galleries Presents 'Head On' May 2-June 21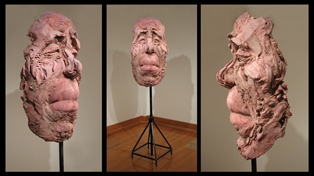 SALISBURY, MD---Salisbury University Art Galleries 2013 Art War winner Corinne Beardsley of Nanticoke, MD, presents a new series of ceramic and mixed media sculptures in the exhibit "Head On" May 2-June 21 at the SU Art Galleries — Downtown Campus.

An artist's talk with Beardsley is 6 p.m. Thursday, May 8. A reception is 5-8 p.m. Friday, May 16, during the Salisbury Arts & Entertainment District's monthly 3rd Friday celebration.

Beardsley has worked and exhibited internationally, studying at Hartford Art School (CT) and the University of Massachusetts, Dartmouth, before earning her M.F.A. in sculpture from the New York Academy of Art in 2011. From there, she went to China for a residency at the Central Academy of Fine Art in Beijing and Shanghai University.

She also studied in Cortona, Italy, through the University of Georgia's Lamar Dodd School of Art. She currently teaches ceramics, drawing and sculpture as an adjunct professor at SU and the University of Maryland Eastern Shore.

In "Head On," Beardsley presents a new series of sculptural heads, preserving gestural moments in clay. Some confront viewers with their monolithic scale and mass, while others pull viewers in for a more intimate interaction. They are inspired by human expression, emotion and play.

Sponsored by SU Art Galleries, admission is free and the public is invited. Gallery hours are noon-6 p.m. Wednesday-Friday, noon-4 p.m. Saturday, other times by appointment.

For more information call 410-543-6271, e-mail Galleries Manager Marisa Sage at misage@salisbury.edu or visit the SU Art Galleries website at www.salisbury.edu/universitygalleries.