Tuesday, January 27, 2015
SU Art Galleries Presents 'Alternative Topographies' February 2-March 20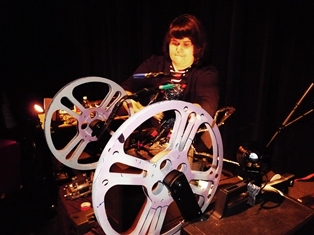 SALISBURY, MD---Salisbury University Art Galleries presents the exhibit "Alternative Topographies: An Exploration of Place(s) Real, Imagined, Representational and Abstract" February 2-March 20 at the Electronic Gallery, Teacher Education and Technology Center (TETC) Room 128.

In connection with the exhibit, artist Kristen Anchor presents a hand-painted 16-millimeter film performance and talk 5 p.m. Wednesday, February 25. Artist Chris H. Lynn presents a super 8 film screening and talk 5:30 p.m. Thursday, March 12. Both presentations are in TETC Room 317. Receptions follow in the Electronic Gallery.

As the world changes, attention is being drawn to how quickly lives and environments are being transformed. A time-based media exhibition, "Alternative Topographies" begins with the broad idea of topography and delves into questions about the definition of place, the roles humans play in preservation and transformation, how place is represented in memories and imaginations, and shifting experiences of reality.

Gallery hours are 8 a.m.-8 p.m. daily. Sponsored by SU Art Galleries, admission is free and the public is invited.

For more information call 410-548-2547 or visit the SU Art Galleries website at www.salisbury.edu/universitygalleries.