Monday, October 22, 2007
SU Announces Plans to Re-Establish ROTC Program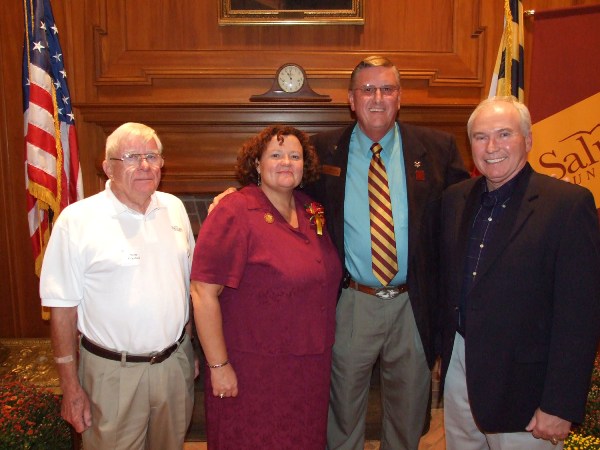 At the first Army Reserve Officers' Training Corps (ROTC) reunion, held during Homecoming Weekend, Salisbury University President Janet Dudley-Eshbach announced the ROTC program would be returning to SU after an absence of nearly a decade. Pictured (from left) are former SU President Norman Crawford, Dudley-Eshbach, SU Provost and Vice President of Academic Affairs Thomas Jones, and Maryland Secretary for Veteran's Affairs Jim Adkins.
SALISBURY, MD---After an absence of nearly a decade, the Army Reserve Officers' Training Corps (ROTC) is returning to Salisbury University.
At SU's Homecoming on Saturday, some 30 former ROTC alumni and training staff were the first to hear from SU President Janet Dudley-Eshbach that ROTC will be re-established at the University. With her were Maryland Secretary for Veteran's Affairs Jim Adkins and former SU President Norman Crawford. ROTC was first established at the University during Crawford's presidency. Adkins, a lieutenant at the time, was the first officer to head the program at SU.
Dr. Thomas Jones, SU's Provost and Vice President of Academic Affairs negotiated the agreement with the U.S. Army ROTC program housed at the University of Delaware. "The program will provide another opportunity for our students to develop the skills needed to be leaders of the future," said Jones, a veteran of Vietnam and the first Gulf War.
Through the agreement signed last week, students will be able to take SU ROTC classes as early as fall 2008. The program requires some 8-16 credits of ROTC courses, in addition to regular degree requirements. Candidates then may be commissioned as second lieutenants in the Army upon graduation.
"ROTC creates an excellent pipeline for students interested in joining the military or pursing a military career," Jones said. "Even though I am ex-military, I would only want this if it met the needs of our students and the military – which it does."
SU had a long history of affiliation with the University of Delaware's ROTC program, beginning in the 1970s. The program thrived on SU's campus throughout the next decade, before dwindling and suffering funding cuts. It ended in 1998. But with increased student interest, the two universities have agreed to re-instate the partnership.
"This initiative is definitely student-driven," Jones said. "The agreement is going to make it easier for our students to receive scholarships, as well as textbooks, uniforms, supplies and other necessary equipment issued for the Army ROTC program through the United States government and the military."
SU students will have equal opportunity to receive two-, three- and four-year scholarships that cover tuition and fees, as well as $900 for books and a $300-$500 monthly stipend. In return, they are obligated to serve eight years in the Army.
Jones said students also will be able to take part in summer training opportunities, which include a 28-day Leader's Training course in Kentucky that emphasizes physical training, teamwork and rappelling. For those wishing to become a second lieutenant, there's also a required 32-day Leadership, Development and Assessment course that focuses on land navigation, marksmanship, combat water survival and a 10-day field exercise to test leadership skills.
SU Junior Ryan Holmes is one of four SU students who, prior to this agreement, are commuting to Delaware to take the ROTC classes. Holmes, a history major, said he wakes up before 6 a.m. three days a week to do physical training, and then drives nearly two hours on Wednesdays to Delaware State University, the nearest location classes are offered.
Through this partnership, he will no longer have to make the lengthy commute in his own car. Classes will be held on SU's campus, or if less than 12 students register they will be provided transportation.
Holmes said having a formal ROTC program at SU will greatly benefit him and other students. They include those at UMES, who will be able to register for the ROTC courses through inter-institutional enrollment with SU. "We all want to get more people active at Salisbury. The program and the leadership training it provides are great tools to help on my future path," said Holmes, who is planning a military career.
According to the United States Army Web site, Army ROTC has more than 272 programs at colleges and universities across the United States, producing about 60 percent of the second lieutenants who join the active Army, the Army National Guard and the U.S. Army Reserve.
For more information call 410-543-6030 or visit the SU Web site at www.salisbury.edu.