Tuesday, February 27, 2018
SU Among Nation's Top Producers of Fulbright Students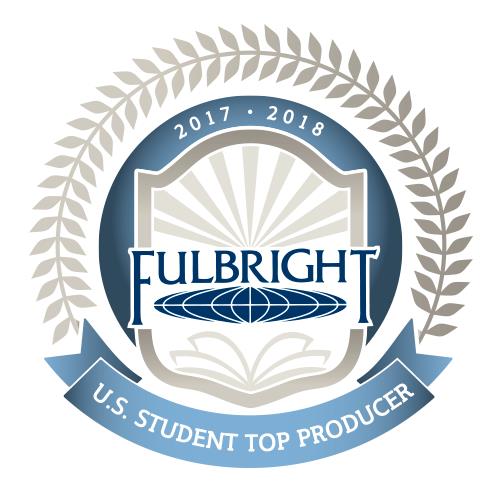 SALISBURY, MD---Salisbury University has been named among the nation's top producers of Fulbright Students for 2017-18 by the U.S. Department of State's Bureau of Educational and Cultural Affairs.

The Fulbright is the country's flagship international educational exchange program. Top-producing campuses were highlighted in The Chronicle of Higher Education.

SU had four students, all May 2017 graduates, who received Fulbright awards for this academic year. They were: Hannah Ennerfelt, Katherine Potvin and Matthew Jones of Salisbury, and Brittany Bursa of Flemington, NJ.

"The University twice has been among the nation's top producers of Fulbright scholars for faculty and administrators, so I am very pleased that our students now are being recognized for their success and achievements," said Dr. Karen Olmstead, interim provost and senior vice president of academic affairs. "Global experiences are a key component of an SU education."

Ennerfelt earned a research/study award to work in a neuroscience lab at Sweden's Uppsala University. The other students earned English Teaching Assistantships. Jones is working with first through third grade students in the Province of Phitsanulok in Northern Thailand. Potvin is in Erdenet, Mongolia, teaching high school and college students in the Otgonbileg School of Technology at the Mongolian University of Science and Technology. Bursa is in Londrinia, Brazil, working with college students at the Universidade Estadual de Londrina.

More than 30 SU students have won national and international fellowships, scholarships and awards in the past seven years, including the Fulbright, Gilman, Gates Cambridge and others with the Environmental Protection Agency and National Science Foundation. SU also has a long history of faculty, administrators and alumni Fulbrighters.

"Our students are truly amazing," said Dr. Kristen Walton, director of SU's Nationally Competitive Fellowships Office, which provides mentorship and support to applicants. "Eight SU students have been named Fulbright semifinalists for 2018-19, and we also just learned that we have two finalists for the prestigious Truman scholarship and a winner of the DAAD RISE scholarship."

SU and the University of Maryland College Park were the only two University System of Maryland campuses spotlighted by The Chronicle.

Since its inception in 1946, the Fulbright Program has provided more than 380,000 participants with the opportunity to exchange ideas and contribute to finding solutions to shared international concerns. Some 1,900 U.S. students are offered Fulbrights annually. The program operates in over 140 countries.

SU students or alumni who are interested in applying for any fellowships may contact Walton at kpwalton@salisbury.edu for assistance. For more information, visit www.salisbury.edu/nationalfellowships.