Thursday, January 24, 2013
SU Alumnus Studies Ediacaran Fossils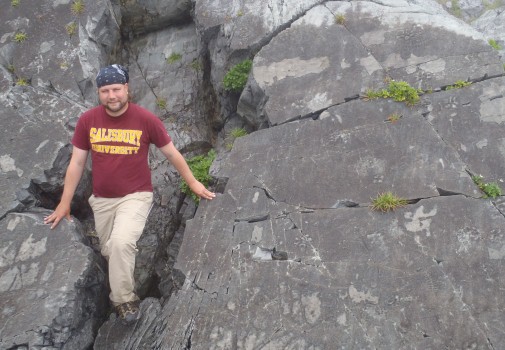 SALISBURY, MD---Salisbury University alumnus Greg Burzynski '07 is helping unravel the roots of the animal kingdom.
While pursuing a Ph.D. in geology at Queen's University in Canada, Burzynski has conducted field studies to examine fossils of some of the earliest forms viewable with the naked eye.
Working at Bonavista Peninsula and Mistaken Point on the tip of Newfoundland, his project last summer involved photographing 579-million-year-old organisms dated to the Ediacaran Period on the Geologic Time Scale.
"They are believed to have been either very primitive animals or a sister-group," he said. "The more we can answer about them, the clearer the picture of our own evolution."
His work is intended to shed light on the nature of the fossil organisms. Many are disk-like in shape, with different appearances. Others are frond- or fern-shaped with a circular end structure that may have tethered them to the sea floor.
The solely discoidal fossils are understudied, so Burzynski's research explores whether they are all independent organisms, all parts of the frond organisms, or various things.
"The relationship between organisms of the Ediacara biota and modern forms is contentious, as they rarely resemble any living form; that's part of what makes this field rewarding and, at times, frustrating," he said.
Burzynski, who grew up in Columbia, graduated magna cum laude in 2007 with a B.S. in biology and a minor in earth science. His love for original research began at SU, working on projects including studying the palynology (pollen) and paleoecology (ancient ecosystems) of the Delmarva Peninsula from the Holocene geological epoch. He also has found working as a teaching assistant and lab instructor very rewarding.
"Queen's has one of the top geology departments in the world, with ample endowments and top-notch professors," said said Burzynski. He wanted to study under Dr. Guy Narbonne, who is respected and widely published in the field of Ediacaran paleontology.

"Guy has told me that he accepted me as a student because of my background in biology, which I got at SU," Burzynski said. "The undergraduate research I was able to partake in was an excellent introduction to how the type of science I'm interested in is done. Also, I had some excellent role models in the Biological Sciences and Geography and Geosciences departments."

"We are proud of Greg's work," said Dr. Brent Zaprowski, his SU research supervisor. "It is always great when a student like Greg makes their way into a highly regarded Ph.D. program. It proves that you don't need to come from a big university to be successful in graduate school."

Burzynski also recalled being a lab assistant for Dr. Eugene Williams' cell biology course, receiving help from Dr. Mark Holland on course requirements and discussing science and graduate school with Dr. Kimberly Hunter.

"They all showed keen interest in my studies during and after my time at Salisbury," he said.

Burzynski earned an M.S. in geology at the University of North Carolina-Wilmington, before starting at Queen's in September 2011. He hopes to complete his Ph.D. in 2014 and eventually become a professor of paleontology.

For more information about Burzynski, visit: http://www.queensu.ca/geol/grad/profiles/gburzynski.html. For details about SU, call 410-543-6030 or visit the SU Web site at www.salisbury.edu.