Wednesday, October 25, 2006
SU Alumnus Named Outstanding Air Force Scientist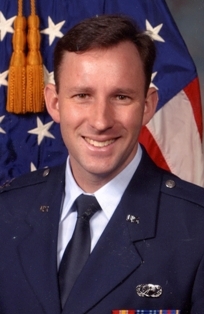 SALISBURY, MD---For helping create what he described as a "poor man's satellite," Major Jason M. Quigley, a Salisbury University alumnus, recently received the United States Air Force Outstanding Scientist Award.
Quigley, a '94 graduate, was recognized for his work with the Combat SkySat initiative, a project at the Space Innovation and Development Center at Schriever Air Force Base in Colorado.
Combat SkySat uses what can be compared to a weather balloon to take advantage of untapped airspace and improve ground communications. The balloon is launched with a radio repeater platform into near-space - between 65,000 and 95,000 feet – where it can transmit information hundreds of miles further than traditional radios. It allows for clearer communications and an extended communication range.
Quigley's recognition stems from his experimentation efforts with the initiative, which was in turn selected for the 2006 Joint Expeditionary Force Experiment to allow for further development of its operational capabilities. He said the project was a team effort.
"It's a fabulous honor," Quigley said. "I was just kind of shocked. Normally, people submit you for these awards and then you never hear about them. Then, I won."
Currently stationed at Kirtland Air Force Base in Albuquerque, New Mexico, Quigley is branch chief at the Air Force Operational Test and Evaluation Center. Originally from Annapolis, he graduated from Salisbury University with a bachelor's degree in physics. His wife, Tina (Williams) Quigley, graduated from the University in '93.
For more information call 410-543-6030 or visit the SU Web site at www.salisbury.edu.