Thursday, January 26, 2017
SU Alumnus Dan Quinn Leads Atlanta Falcons to Super Bowl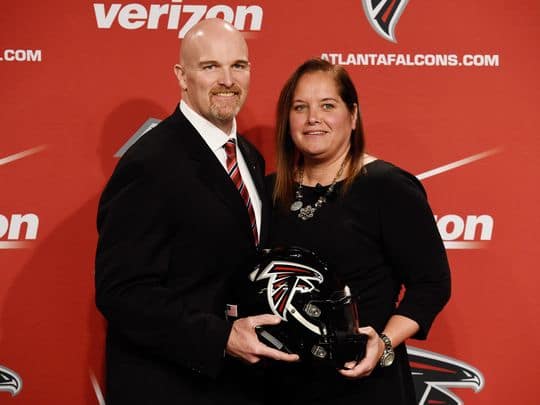 SU Alumni Dan and Stacey Quinn

SALISBURY, MD---The Atlanta Falcons and Head Coach Dan Quinn are headed to Super Bowl LI in Houston on Sunday, February 5.

Quinn is an SU alumnus and Athletics Hall of Fame member, having been a standout in both football and track and field at then-Salisbury State University in the early 1990s.

A 1994 graduate, Quinn lettered in football in 1990, '91 and '93, and in Track and Field from 1990-1993, earning team captain honors for both programs.

Quinn worked his way through colleges and professional coaching ranks after his graduation. He already has one Super Bowl title, having won as the defensive coordinator with the Seattle Seahawks in 2014.

Quinn and the Falcons defeated the Green Bay Packers in the NFC Championship Game, 44-21, on Sunday, January 22. The Falcons will face the New England Patriots in the Super Bowl. The Patriots defeated the Pittsburgh Steelers in the AFC Championship Game, 36-17.