Thursday, March 8, 2018
SU Alumna Visbal's 'Fearless Girl' Legacy Continues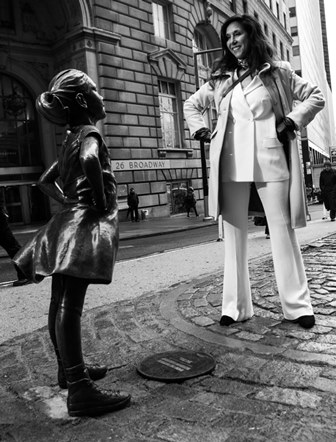 SALISBURY, MD---On International Women's Day, "Fearless Girl" is going international.
A new casting of the famous bronze sculpture by Salisbury University alumna Kristen Visbal was unveiled today in Oslo, Norway, facing the nation's parliament building.
According to Visbal, it is the first in a series of planned international placements of the figure in an effort to continue the original's message of diversity and the need for collaboration between genders for the global good. She intends to strategically place future editions at key public venues, corporate campuses and educational facilities worldwide.
The Oslo installation was purchased through the C. Ludens Ringnes Foundation.
The original "Fearless Girl" was unveiled in Bowling Green Park on New York's Wall Street in celebration of International Women's Day 2017. Commissioned by State Street Global Advisors, the girl, arms akimbo, faces down artist Arturo Di Modica's 1989 "Charging Bull" sculpture in a sign of female empowerment. Visbal visited the sculpture on its first-year anniversary.
Placed as a temporary installation, "Fearless Girl"'s popularity earned it a year-long stay. While that extension is scheduled to end this week, State Street has said it is working with the Office of the Mayor of New York to find a permanent home for the sculpture. Efforts have included a petition, signed by nearly 40,000, requesting that it remain at its current location.
For more information call 410-543-6030 or visit the SU website at www.salisbury.edu.