Monday, August 16, 2010
SU Again Named a Military Friendly Campus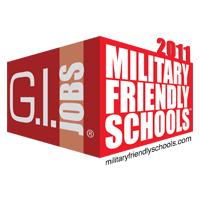 SALISBURY, MD---For the second consecutive year, Salisbury University has been named a Military Friendly School by G.I. Jobs magazine. Honored among the top 15 percent of colleges, universities and trade schools nationwide, SU will be included in 2011 Guide to Military Friendly Schools, published in September.
The guide is designed to help students who are enlisted or who are veterans determine what schools will welcome them and provide the greatest value. There are currently some eight million troops and veterans eligible for G.I. Bill benefits.
Some 100 SU students have military experience—a number that has more than doubled since spring 2009. One of those students is senior Sarah Dennis, an international studies major who served four years in the U.S. Air Force. She credits recent graduate and Iraq War veteran Joe Hoover, who has been the Veterans Affairs liaison in the Registrar's Office, with helping her make a smooth transition.
"The office plays an instrumental role to ensure that veterans receive the benefits they have worked so hard for and truly deserve," said Dennis, who will take over as liaison in fall 2010. "I've been helped with issues including qualifying for the Post 9/11 G.I. Bill, using my educational benefits to study abroad and receiving an advanced book stipend."
Welcoming service members, SU participates in the Yellow Ribbon Program, an optional component of the new Post-9/11 G.I. Bill for veterans. Through this supplemental program, universities pay up to half the difference in tuition beyond the amount covered by the federal government. The bill adds a $1,000 stipend for books and provides more than $1,300 a month for housing for up to 36 months.
Education major Robert Landolt is another SU student who has taken advantage of G.I. Bill benefits. "The current incarnation of the G.I. Bill was too good to pass up," said the New Jersey native who served over six years of active duty in the U.S. Coast Guard. "I came to SU because it has a good reputation." He's become active with the University's "awesome" Student Military and Veterans Association and encourages all students to join, not just those with prior service.
For SU students interested in entering the military, the campus brought back its Army Reserve Officers' Training Corps (ROTC) program in fall 2008. There was a student-driven demand for its re-establishment and under the direction of SU alumnus David Engelman ('05), a 1st lieutenant in the U.S. Army, the program is thriving.
For the complete list Military Friendly Schools visit www.militaryfriendlyschools.com/2011list. For more information on G.I. Bill benefits, visit www.gibill.va.gov. For details about veteran affairs at SU, call 410-543-6189 or visit the SU Web site at www.salisbury.edu.