Wednesday, September 19, 2012
SU Again Named Among Military Friendly Schools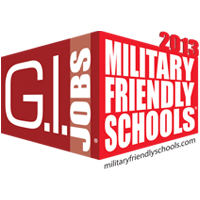 SALISBURY, MD---For the fourth consecutive year, Salisbury University has been named a 2013 Military Friendly School® by Victory Media. Honored among the top 15 percent of colleges, universities and trade schools nationwide, SU is applauded for doing the most it can to ensure the success of service members, veterans and their spouses on campus.
Salisbury will be included in the annual Guide to Military Friendly Schools®, published in October.
"Inclusion on the list shows Salisbury University's commitment to providing a supportive environment for military students," said Sean Collins, vice president of Victory Media, which is dedicated to helping military personnel transition to civilian life. "As interest in education grows we're thrilled to provide the military community with resources to assist."
The guide is designed to aid enlisted students or veterans search for schools that will welcome them and provide the greatest value. SU and other campuses listed exhibit leading practices in the recruitment and retention of students with military backgrounds.
Criteria examined include supportive campus programs and policies, academic reputation, current military or veteran student enrollment, credit and flexibility for military service, tuition assistance, and graduation rates.
At SU, some 170 students use U.S. Department of Veteran's Affairs educational benefits. Senior Robert Landolt, an education major and Coast Guard veteran, is one two students who work nearly full-time alongside Elizabeth Iannelli, the Veteran's Affairs liaison in SU's Registrar's Office. Together, they help former and current service members navigate processes related to benefits. Landolt also leads SU's Student Military and Veterans Association.
SU participates in the Yellow Ribbon Program, an optional component of the new Post-9/11 G.I. Bill for veterans. Through this supplemental program, universities pay up to half the difference in tuition beyond the amount covered by the federal government. SU also offers an Army Reserve Officers' Training Corps (ROTC) program for students interested in entering the military.
For the complete list of Military Friendly Schools visit www.militaryfriendlyschools.com. For more information on G.I. Bill benefits, visit www.gibill.va.gov. For details about veteran affairs at SU, call 410-677-5388 or visit the SU Web site at www.salisbury.edu/veterans.