Wednesday, January 7, 2015
SU Accounting and Legal Studies Department Earns AACSB Accreditation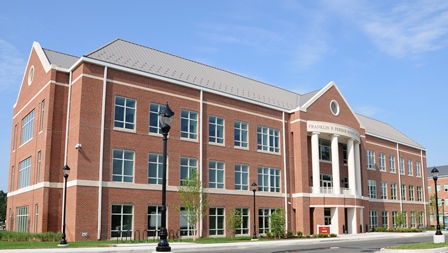 SALISBURY, MD---Salisbury University's Accounting and Legal Studies Department recently earned accreditation from AACSB International, the longest-serving global accrediting body for business schools.

Part of SU's Franklin P. Perdue School of Business, the department is one of just 182 accounting programs globally to earn AACSB accreditation. Similarly, the Perdue School as a whole is one of only 719 business schools in 48 countries and territories — fewer than 5 percent in the world — to earn overall AACSB business accreditation.

"This is certainly an honor," said Dr. Christy Weer, dean of the Perdue School. "AACSB accreditation represents an external verification that we are doing all the right things to give our students the quality of education we strive for."

Robert D. Reid, executive vice president and chief accreditation officer for AACSB, congratulated Weer and Dr. Kenneth Smith, department chair, on their accomplishment:

"It takes a great deal of self-evaluation and determination to earn both accounting and business accreditation, and I commend Salisbury University for its dedication to management education, as well as its leadership in the community. … The Franklin P. Perdue School of Business has not only met specific standards of excellence, but also has made a commitment to ongoing improvement to ensure that the institution will continue to deliver high-quality education to its students."

For more information call 410-543-6030 or visit the SU website at www.salisbury.edu.