Friday, October 6, 2006
SSO Presents 'Peter and the Wolf,' 'The Toy Symphony' October 28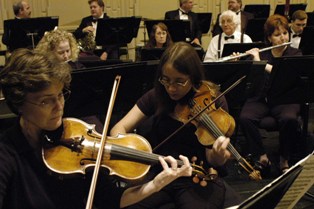 SALISBURY, MD---The Salisbury Symphony Orchestra at Salisbury University performs children's classics Peter and the Wolf and The Toy Symphony 2 p.m. Saturday, October 28, in Holloway Hall Auditorium during a special all-ages concert.
Opening the SSO's 2006-2007 season, the one-hour concert is designed to introduce elementary-aged children to the orchestra. The timeless tales and accessible music, however, appeal to all.
During a brief musical preface to familiarize young people with the orchestra, Conductor Jeffrey Schoyen and the musicians highlight the instruments that play character roles in Sergei Prokofiev's Peter and the Wolf. These include the string section, which represents the boyish enthusiasm of Peter; the French horn section, giving ominous voice to the wolf; the clarinet which represents a cat; the low, noble bassoon as the grandfather; an oboe as the duck; and the lilting notes of a flute for the fluttering bird. Dr. Timothy O'Rourke, dean of the Charles R. and Martha N. Fulton School of Liberal Arts, narrates.
Following Peter, the symphony performs Leopold Mozart's The Toy Symphony, which uses toy instruments along with real instruments during the orchestral performance.
This concert is made possible through the support of Public Radio Delmarva, celebrating its 20th year; a grant from Target Inc.; and sponsors Kumon Math & Reading Center of Salisbury and Dr. James M. Crouse, D.D.S., P.A.
The performance marks the 21st season for the SSO. Other concerts are scheduled December 9, March 3 and May 12.
Tickets are $5, free for children under 12 accompanied by an adult. For more information, including season tickets, call 410-548-5587 or visit the SU Web site at www.salisbury.edu.