Monday, October 20, 2008
SSO Opens Season With 'Haunted Orchestra' October 25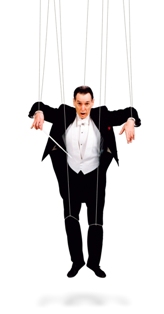 SALISBURY, MD---Nerdy Mr. Kirby from the National Institute for Children's Entertainment (N.I.C.E.) doesn't believe in the magic of music—but that's all bound to change when Dr. Jeffrey Schoyen waves his baton while conducting this year's Salisbury Symphony Orchestra Youth Concert.
The magic happens 3 p.m. Saturday, October 25, in Holloway Hall Auditorium at Salisbury University, where the SSO presents "The Haunted Orchestra." Children are encouraged to come in costume.
Kirby, AKA visual comedian Dan Kamin, literally loses his shirt (and pants) to widely recognizable classical works including Wagner's "The Ride of the Valkyries," Rimsey-Korsakov's "Flight of the Bumblebee" and Anderson's "The Syncopated Clock." And rest assured, strings are attached (to Kirby himself) as the SSO performs Gounod's "Funeral March of a Marionette" (AKA the theme from Alfred Hitchcock Presents).
Though Kamin's name may not sound immediately familiar to audiences, millions have seen his work. From teaching Johnny Depp how to roll a coin around his fingers for the Pirates of the Caribbean movies to putting Robert Downey Jr. through a crash course in physical comedy for his acclaimed title role in Chaplin, Kamin has educated some of the world's most acclaimed actors.
In addition to his work with Downey and Depp, also for Benny and Joon, Kamin created the Martian movement for Tim Burton's Mars Attacks! and appeared on screen as the wooden Indian who comes to life in the cult classic Creepshow 2.
Opening the SSO's 2007-2008 season, the one-hour concert is designed to introduce elementary-aged children to the orchestra. The performance marks the 23rd season for the SSO.
This concert is made possible through the support of Dr. James M. Crouse, D.D.S., P.A.; and the SU Alumni Association, Delmarva Chapter. It is also partially supported by a grant from the Pennsylvania Performing Arts on Tour, a program developed and funded by The Heinz Endowments; the William Penn Foundation; the Pennsylvania Council on the Arts, a state agency; and The Pew Charitable Trusts; and administered by Mid Atlantic Arts Foundation. Tickets are $10, free for children under 12 accompanied by an adult. Tickets are available at the door only.
For more information, including season tickets to the SSO, call 410-548-5587 or visit the SU Web site at www.salisbury.edu.