Monday, September 10, 2012
SSO Offers 2012-13 Season Ticket Plan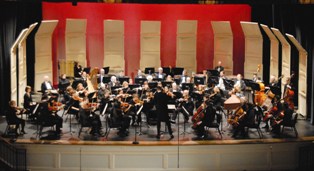 SALISBURY, MD---The Salisbury Symphony Orchestra at Salisbury University (SSO) offers a season ticket package for 2012-13, good for four upcoming concerts in Holloway Hall Auditorium.

Internationally renowned violist Roberto Díaz inaugurates the season with a solo recital 7:30 p.m. Saturday, September 29. The former principal violist of the Philadelphia Orchestra, Díaz is the president and CEO of that city's acclaimed Curtis Institute of Music. He has performed with some of the nation's most popular musicians and ensembles, including Yo-Yo Ma and the Boston Pops.

Pianist Gloria Chien accompanies Díaz. The program includes de Falla's Suite Populaire Espagnole; Hindemith's Sonata for Viola solo, Op. 25, No. 1; Brahms' Sonata for Viola and Piano in E flat major, Op. 120, No. 2; and Bloch's Suite for Viola and Piano.

The orchestra offers a "Wine, Dine and Fine Music" dinner prior to the concert in the Social Room and Great Hall of Holloway Hall. Hors d'oeuvres and cocktails begin at 5:30 p.m., followed by dinner at 6 p.m. Dr. Paul Scott, pianist and SSO member, performs. Tickets are $100 each ($80 for season ticket holders) and include admission to the recital. Proceeds benefit the SSO.

The SSO presents its annual Children's Concert 3 p.m. Saturday, October 27, featuring the Native American legend "In the Beginning." Narration of the Tlingit story of Raven and Ganook, and how water came to Earth, is interspersed with orchestral selections.

Tenor Dominic Armstrong joins the orchestra for its annual Holiday Concert, "Opera Classics and Broadway Favorites," 7:30 p.m. Saturday, December 8. A graduate of The Curtis Institute and The Julliard School, Armstrong has performed with Deutsche Oper Berlin, Opera Regio Torino and the New York City Opera, among others. He also has sung at Ireland's Wexford Opera Festival.

The season culminates as the Capitol Quartet joins the SSO for "An Evening at the Pops" 7:30 p.m. Saturday, May 11. The quartet has earned critical acclaim among media and fans alike, including the late composer Marvin Hamlisch, who called his performance with the group "a wonderfully entertaining musical experience." The quartet has sung with the U.S. Air Forece Heritage of American Band, U.S. Continental Army Band, Guatemala National Symphony, Cincinnati Pops and Baltimore Symphony, among others.

Season tickets are $70 per person, $50 for seniors ages 62 and up. Admission to concerts for non-season ticket holders is $20, $15 for seniors age 60 and up, and $5 for children 12 and under.

For tickets and more information visit the orchestra's Web site at www.SalisburySymphonyOrchestra.org.