Thursday, February 15, 2007
SGA Hosts Third Annual Big Event Saturday, April 14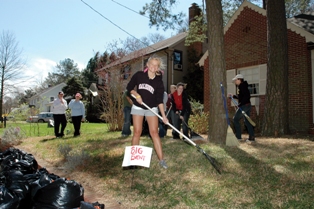 SALISBURY, MD---Salisbury University students unite to help the community during the Student Government Association's third annual The Big Event 9 a.m.-5 p.m. Saturday, April 14.
During the day-long community service project, students aid University neighbors in the Salisbury and Fruitland area by fulfilling requests to perform household chores such as raking, cleaning and painting.
"The Big Event is an opportunity for Salisbury University students to show their appreciation to the community," said Allison Hueber, SGA vice president of university affairs.
In the past, students performed painting and maintenance projects at the Fruitland Community Center in addition to assisting at private residences. They also participated in a neighborhood beautification project at Rose and Lake streets in connection with Salisbury Neighborhood Housing Services.
For more information visit the SGA Web site, call 410-548-4757 or e-mail sgavpofua@salisbury.edu.