Tuesday, March 3, 2015
'Rosie the Riveter' Film, Discussion Mar. 4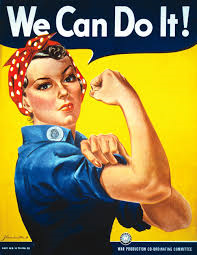 SALISBURY, MD---Salisbury University's 2015 Women's History Month celebration continues with a screening of the film The Life and Times of Rosie the Riveter 7 p.m. Wednesday, March 4, in Fulton Hall Room 111.
Filmmaker Connie Field directed the 1980 documentary after learning about a reunion in California celebrating the women who went to work in factories and other formerly male-dominated workplaces during World War II. They were represented by "Rosie the Riveter," a symbol used on thousands of posters and billboards throughout the United States, calling on women to "do the job he left behind."
Field interviewed five former "Rosies," who movingly recalled their histories working in Detroit, Los Angeles, New York and San Francisco. Their stories are complemented with newsreels, recruiting trailers and popular songs of the period.
The film was selected for preservation in the Library of Congress' U.S. National Film Registry for its cultural and historical significance.
A panel discussion on the legacy of "Rosie the Riveter" in the 70 years since the war's end follows. Panelists include Drs. Maarten Pereboom, dean of SU's Charles R. and Martha N. Fulton School of Liberal Arts, Victoria Pass of the Art Department and Kara French of the History Department.
Sponsored by the SU Women's History Month Committee, admission is free and the public is invited. For more information call 410-543-6030 or visit the SU website at www.salisbury.edu.