Thursday, October 17, 2013
Retired Diebold Chairman Lauer Speaks at SU Tuesday, October 22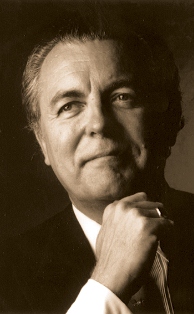 SALISBURY, MD---John Lauer has overseen companies making goods from plastics to tires to automated teller machines (ATMs). In the long run, however, they all made the same thing: money.

Lauer, retired chairman of the board of Diebold, Inc., is the next speaker in Salisbury University's Perdue Executive Leadership Series. His presentation is 3:30 p.m. Tuesday, October 22, in Holloway Hall Auditorium.

Early in his career, Lauer headed marketing and sales for Celanese Chemical Co., served as president of Celanese Specialty Operations and Hoechst Celanese Engineering Resins, and served on the worldwide management board for plastics and waxes of Hoechst, AG in Frankfurt, Germany.

He retired from Hoechst Celanese Corp. in 1989 and joined the B.F. Goodrich Co. as executive vice president and president of its Geon Vinyl division. He was elected the company's president and chief operating officer in 1990, holding the position until 1995.

From there, he pursued personal investment interests, working closely with Primus Venture Partners of Cleveland; Bessemer Holdings, LP of New York; and Madison Dearborn Capital Partners of Chicago in an attempt to acquire a global petrochemical enterprise. In 1997, he invested in Oglebay Norton Co. of Cleveland, a business supplying essential natural mineral resources for industrial, commercial and retail customers in North America.

He retired as chairman of Oglebay Norton in 2003, becoming chairman of the board of Diebold in 2005. Until his retirement from that company earlier this year, he oversaw the board of the Ohio-based company, a global leader in ATMs and electronic security products and services, including voting machines.

In addition, Lauer has served on several private national and international corporate boards of directors. He is the former chairman of the University of Maryland, College Park (UMCP) Board of Visitors and is currently chairman of the University of Maryland Foundation Board of Trustees.

He served eight years as vice president of the Sigma Alpha Epsilon Foundation Board of Trustees and recently was appointed honorary foreign economic counselor to Hungary.

Lauer holds a B.S. in chemical engineering from UMCP and an M.B.A. from Texas A&M University at Kingsville. In addition, he has conducted extensive doctoral management research at Case Western Reserve University in the areas of societal consequences of munificent CEO compensation and human rights issues in central Europe.

Sponsored by the Franklin P. Perdue School of Business, admission to his talk is free and the public is invited. For more information call 410-543-6119 or visit the SU website at www.salisbury.edu.