Friday, October 9, 2015
Respiratory Therapy Students Advance in Sputum Bowl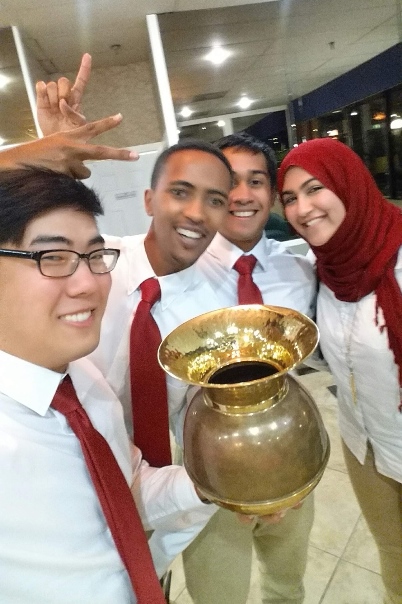 SALISBURY, MD---For the third consecutive year, a team of students representing Salisbury University's Respiratory Therapy Program won the Sputum Bowl at the Maryland/District of Columbia Society for Respiratory Care's recent conference in Ocean City, MD.

They advance to the 38th National Sputum Bowl, where they will compete against teams from across the U.S., during the American Association for Respiratory Care's conference in Tampa, FL, in November.

Despite being named after a respiratory secretion, the It's Academic-style competition is a serious intellectual contest. The winning team was comprised of seniors from SU's satellite respiratory therapy program at the Universities at Shady Grove (USG) in Montgomery County. Members included: Carlos Kim of Rockville, MD; Azka Riaz of Gaithersburg, MD; and Herson Hernandez and Abiy Woldeyohannes, both of Silver Spring, MD.

A team of seniors from the Salisbury campus also participated: Alex Arias of Gaithersburg, MD; Kim Johnson of Rising Sun, MD; Connor Middlekauff of Hagerstown, MD; and Shaina Yourik of Baltimore.

"The contest was a good way to help motivate respiratory therapy students to learn all aspects of the profession," Arias said. Johnson added: "This experience benefitted me by providing me with some questions and topics that will be on our National Board Exam, but more importantly I was able to meet and interact with people from all over the state that could very well be my future coworkers and/or employers."

"Both of our teams did very well competing against other teams representing respiratory care education programs from across Maryland and Washington, D.C.," said faculty advisor Lisa Joyner of SU's respiratory therapy program. "They thoroughly shined as academic and professional representatives of SU's program."

Pictured, from left, are Kim, Woldeyohannes, Hernandez and Riaz.

For more information, call 410-543-6030 or visit the SU website at www.salisbury.edu.