Friday, August 9, 2013
Registration Open for Fall 'Learn with SU' Seminars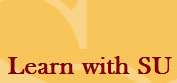 SALISBURY, MD---Registration is open for fall "Learn with SU" seminars, presented by the Association for Lifelong Learning in Salisbury with support from the Salisbury University Foundation, Inc.
Membership, for Delmarva Peninsula residents age 50 and over, is $30 for the semester and includes all courses. Multi-session courses scheduled this semester include:
• "The American Short Story II" with Nancy Hesser;
• "From Hoof Prints to Footprints: The Role of the People of Assateague Island" with Kelly Taylor;
• "Between Sea and Sahel: How the Maghreb Shaped (and Shapes) the World" with Phil Hesser;
• "The Constitution and the Supreme Court: How the Roberts Court is Changing the Law" with Page Insley-Austin;
• "Emily Dickinson — Works in Progress" with Dorothy Yeatman;
• "Evolutionary Biology: From Darwin to the Modern Synthesis and Beyond" with Ryan Taylor;
• "Judaism in the Hellenic World" with Joseph Chaikel;
• "The Psychology of Death, Dying and Bereavement" with Carolyn Stegman;
• "The Spirit of Pioneer Women: Letters, Journals and Diaries of the 19th Century" with Kathleen Winter; and
• "Rivers of the Chesapeake I: The Western Shore" with Phil Hesser.
Registration deadline is Friday, August 30. To request a membership and registration form, and a detailed catalog of course offerings, e-mail assocforll@hotmail.com or visit www.associationforlifelonglearning.org.
For more information about the series visit the Learn with SU Web site at www.salisbury.edu/lifelonglearning.