Tuesday, October 14, 2008
Ravens President Cass Offers 'An Insider's View of the NFL' October 21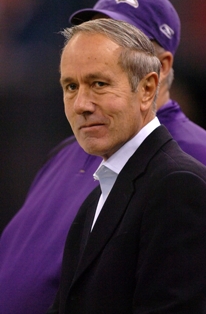 SALISBURY, MD---Football fans often associate names like Ray Lewis and Terrell Suggs with the Baltimore Ravens. However, there is one name those players themselves have associated with the team above almost any other: Dick Cass.
The president of the Ravens since 2004, Cass speaks to Salisbury University students and local community members 3 p.m. Tuesday, October 21, in Holloway Hall Auditorium on "An Insider's View of the NFL." He is the featured speaker in this semester's Perdue Executive Leadership Series, sponsored by SU's Franklin P. Perdue School of Business.
As team president, Cass oversees every area of the organization, including player and staff personnel, the coaching team, corporate sales, communications and business ventures. In addition to his time with the Ravens, Cass has served as counsel to the owners of a number of NFL teams, including the Washington Redskins and Dallas Cowboys, as well as the NFL's league office.
"Dick has had involvement with every aspect of an NFL team," said Ravens owner and SU alumnus Steve Bisciotti ('82). "His legal expertise, his working knowledge of the business, his relationships at the league office and the respect he has earned around the league are significant assets for the franchise."
The Ravens are ranked ninth in the NFL in total revenue. Forbes Magazine has recognized the Ravens under Cass' leadership as the NFL's second fastest-growing brand. In addition to his work with the team, Cass has been recognized for his fundraising efforts, including $1.2 million for victims of Hurricane Katrina and another $1.2 million to refurbish Baltimore Polytechnic Institute's storied football stadium, which allows all 18 Baltimore City public high schools to play at least two games each year on the field.
Prior to working with the Ravens, Cass was a partner of the Washington, D.C.-based law firm Wilmer, Cutler and Pickering for 31 years. As chairman of the firm's business transaction section and a member of its management committee, he held a general corporate and securities practice representing companies and entrepreneurs in complex corporate partnership and securities transactions.
Cass served as legal counsel to the Independent Commission of the U.S. Olympics Committee in 2003, as well as the Charlotte Hornets basketball team during its relocation to New Orleans in 2002. He earned his undergraduate degree from Princeton University in 1968 and his law degree from Yale Law School in 1971.
His talk at SU is free and the public is invited. For more information call 410-543-6030 or visit the SU Web site at www.salisbury.edu.