Friday, September 29, 2006
Public Radio Delmarva Offers Streaming Webcast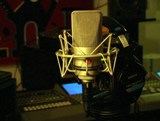 SALISBURY, MD---Whenever Robin Anderson visits her mother's home in Salisbury they listen to classical music on WSCL. She loves the public radio station broadcast from Salisbury University and over the years she often wished she could hear it at her home in Austin, TX.
"We both love classical music," Anderson said. "I'm so glad she has the station to listen to because it's excellent and I look forward to hearing it when I'm there."
A few weeks ago her mother called with news that the station was now "screaming." Anderson knew she meant streaming – and she excitedly checked out WSCL on the Web. "I've been listening quite a lot since then," she said.
Public Radio Delmarva operates WSCL and WSDL, a public affairs station, from SU. On August 20, both stations began streaming, which allows listeners to hear classical music or news radio live, online, anytime, said general manager Fred Marino. Web site visitation doubled that week.
"It's unlimited," he said. "It's possible any place you've got a computer and a link to the internet." Over the airwaves at 89.5 FM, WSCL serves listeners in Southern New Jersey, Delaware and on Maryland's Eastern Shore. At 90.7 FM, WSDL reaches Sussex, Worcester and Wicomico counties. Together, the stations reach 41,500 Delmarva listeners – and now anyone around the world can tune in online.
"This is something we've wanted to do for a long time," Marino said. "People have been telling us they like it and they appreciate it."
Anderson was so thrilled with the decision to broadcast online that she promptly sent a donation to the station. "I immediately contributed because I want to encourage it to continue," she said. Now, Anderson says WSCL plays about 75 percent of the time she is home in Texas. "I read a lot and as I do things around the house I listen," she said, noting the wonderful music selection.
"It's beautiful, beautiful music and very often in addition to the favorites that all of us love there's music that's relatively unknown," Anderson said. "Plus the announcers are informative without talking too much. They have a passion for the music and that makes a difference."
The process of preparing the station and Web site for streaming took only a few days, at an initial cost of about $7,000. After a few signal glitches, Marino said the stations are up and running online. "I sit there and listen to it all day to make sure it's working – and it is. It's been very consistent now," Marino said.
Marino attributes the rapidly growing WSCL and WSDL audiences to listeners with a high interest in classical music, news and talk programs. "This is a wonderful place for a public radio station," he said. "There's an audience here who really wants us." This year is the 20th anniversary of WSCL's first broadcast, and the 9th year for WSDL.
The live stream may be accessed on the Public Radio Delmarva Web site at http://www.publicradiodelmarva.net/. For more information call 410-543-6895 or visit SU's Web site at www.salisbury.edu.