Friday, June 27, 2008
Public Radio Delmarva Again Wins Broadcasting Awards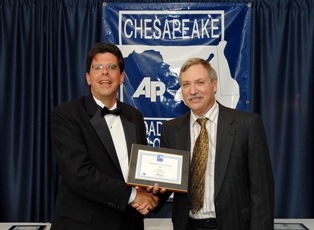 SALISBURY, MD---From revving classic car engines to comments from complaining drivers, the use of sound in a story on continually rising gas prices recently earned Public Radio Delmarva and News Director Don Rush praise from the Chesapeake Associated Press Broadcasters Association (CAPBA).
It was one of three awards won by WSCL/WSDL in the non-metro radio category during the annual June ceremony in Ocean City. The stations, which broadcast from Salisbury University, have won 12 in the past four years.
"We're very proud of Don Rush and the work he is doing for Public Radio Delmarva," said Gerry Weston, general manager. "Our commitment to the Delmarva Peninsula is strong, and these awards validate that commitment."
Winning Outstanding Feature/Human Interest story was Rush's exploration of the rise of Spanish language radio stations, newspapers and other media sparked by Delmarva's booming Hispanic population. Reporting from LatinoFest, an annual event sponsored by the Spanish station Digital 900 A.M., Rush shared the story of one bilingual immigrant from Mexico who said such media outlets give his parents and others a sense of home and a way to keep up with the changing world. He was again recognized along with Charito Calvachi-Mateyko for her translation and reporting assistance.
Public Radio Delmarva garnered its third award for a commentary told by essayist and teacher Diane Saienni Albanese about breaking learning barriers to help "A Student Named David," who came from the streets of Washington, D.C., thrive in the classroom.
"I'm very gratified that the Chesapeake AP has rewarded our work," said Rush, who joined Public Radio Delmarva in 2003. "This marks the fourth year in a row that we've won three awards, and I'm very proud. It's especially gratifying that Diane Saienni Albanese's work was recognized. These stories are exactly the kind we like to tell here at Public Radio Delmarva, and it's a thrill that it was so well received. Our stories are now podcasting on our Web site and we continue to make great strides in our ability to bring them to as many people as possible. It's a very exciting time."
All three stories aired during "Morning Edition." Public Radio Delmarva was selected from among some 70 radio and television stations in Maryland, Delaware and Washington, D.C. For more information call 410-543-6895 or visit the Public Radio Delmarva Web site at www.publicradiodelmarva.net.