Tuesday, August 5, 2014
Princeton Review Names SU Among 'Best 379 Colleges'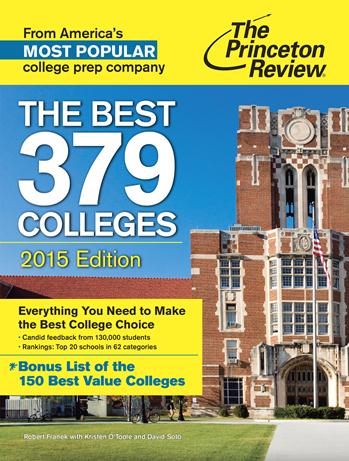 SALISBURY, MD—"The professors here are down-to-earth, friendly, and just passionate about what they are teaching."
You learn "lessons that you will be able to take far beyond the classroom. They don't teach so that you will pass a test, they teach for life. They're awesome."
These are some of the student comments about Salisbury University in The Princeton Review's new 2015 edition of The Best 379 Colleges. The University is among the nation's top 15 percent in undergraduate education, according to the Review's flagship college guide.
Says Rob Franek, the guide's author and Princeton Review senior vice president and publisher, "SU offers outstanding academics, which is the chief reason we selected it for the book. We base our choices primarily on data we obtain in our annual surveys of administrators at these schools and at hundreds of other colleges. We take into account input we get from our staff, our 27-member National College Counselor Advisory Board, our personal visits to schools, and the sizable amount of feedback we get from our surveys of students attending these schools. We also work to maintain a wide representation of colleges in the book by region, size, selectivity and character."
Spotlighted in the campus's two-page review were the academic experience, the diversity in the student body, their commitment to their fields of study and the variety of student life activities available.
"Salisbury University's recognition again this year is a testament to the dedication and commitment of our students, faculty and staff," said Dr. Diane Allen, provost and senior vice president of academic affairs. "We live in challenging times. Nevertheless, we are grateful for the collegiality, good spirits, imagination and work ethic which our faculty, students and staff demonstrate each day. There is a joy in education which you'll find on this campus."
SU is one of three University System of Maryland campuses in the guidebook, with the University of Maryland Baltimore County and the University of Maryland College Park. Other area colleges include the University of Delaware, the U.S. Naval Academy and St. John's College of Maryland.
SU was also named among the publisher's Best Northeastern Colleges for 2015.
In recent weeks, SU has been ranked in "America's Top Colleges" by Forbes magazine, based on student satisfaction, post-graduate success, graduation rates and academic achievement. The University also was among "The Best Colleges for Your Money" by Money magazine, which examines educational quality, affordability and alumni earnings.
In January, The Princeton Review and USA Today named SU among the Top 80 "Best Value Public Colleges" for 2014. In February, Kiplinger's Personal Finance named SU among its Top 100 "Best Values in Public Colleges" for 2014 and later among its "25 Best College Values Under $30,000 a Year."
For more information call 410-543-6030 or visit the SU website at www.salisbury.edu.