Thursday, May 1, 2014
Price Named SU's 2014 Outstanding Research Mentor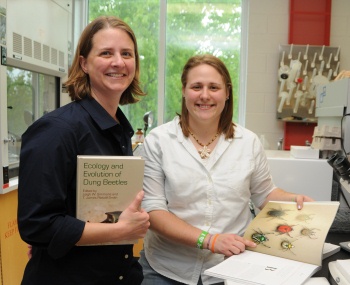 SALISBURY, MD---Not many students plan to study dung beetles in college.

Yet, Dr. Dana Price, an entomologist in the Biological Sciences Department, is credited with running a "dynamic research lab" that is home to one of Salisbury University's largest groups of undergraduate researchers each semester.

According to colleagues, her "infectious enthusiasm" quickly generates interest among students. Her dedication to teaching them and guiding their studies has earned her the University's 2014 Outstanding Research Mentor Award.

Presented at SU's annual Student Research Conference (SUSRC), the award celebrates faculty mentors who are excellent supervisors of student research or creative work.

"[Dana] generously gives her time to all of [her students]," said Dr. Ron Gutberlet, associate department chair. "Some work on individual projects, some work on research teams, but all are part of one community built around curiosity, enthusiasm and hard work."

"Her influence throughout my [undergraduate studies] helped jumpstart my post-baccalaureate academic career and changed my life forever," said mentee Mallory Hagadorn, who earned a National Science Foundation Graduate Research Fellowship valued at $126,000 in 2013 to continue her dung beetle studies.

Another colleague, Dr. Kimberly Hunter, said: "Her students have surveyed the Eastern Shore to determine which groups of beetles are found in the region, developed keys for identifying insects, and asked sophisticated questions regarding the behavior and ecology of these animals. In addition, they have examined these beetles through the lens of applied science, helping farmers better understand how their farming practices influence and, in turn, are influenced by dung beetles."

Since joining the SU faculty in 2008, Price has mentored 17 undergraduate and two graduate students, resulting in 10 SUSRC presentations, nine Guerrieri Undergraduate Summer Research Symposium presentations, 11 presentations at regional and international conferences, and two peer-reviewed publications. Many of her students also have earned research and travel grants.

For more information call 410-543-6030 or visit the SU website at www.salisbury.edu.