Wednesday, August 31, 2011
'Picking Cotton' Author Talk at SU Rescheduled for Tuesday, September 6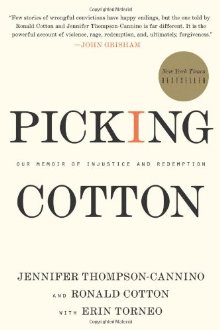 SALISBURY, MD---Ronald Cotton served more than a decade in prison for a crime he never committed.
Two years after he was exonerated by DNA evidence, Cotton met Jennifer Thompson, the woman who mistakenly identified him as the man who raped her at knifepoint, and the two formed an unlikely friendship that changed their lives.
The pair wrote about their experiences, with co-author Erin Torneo, in the New York Times bestseller Picking Cotton: Our Memoir of Injustice and Redemption, this year's New Student Reader book at Salisbury University. Thompson speaks about their journey 7 p.m. Tuesday, September 6, in the Great Hall of Holloway Hall. A book signing follows. (The event was rescheduled from Thursday, August 25, due to preparations for Hurricane Irene.)
Publisher's Weekly calls Picking Cotton "at once a devastating and uplifting crash course in the criminal justice system." Kirkus Reviews hails it as a "heartfelt joint memoir." Its authors received the Soros Justice Media Fellowship, honoring individuals who implement projects to help reform the U.S. criminal justice system.
Admission is free and the public is invited. For more information call 410-543-6030 or visit the SU Web site at www.salisbury.edu.