Wednesday, July 15, 2009
Pfeiffer's Acclaimed 'Apology' Returns to Stage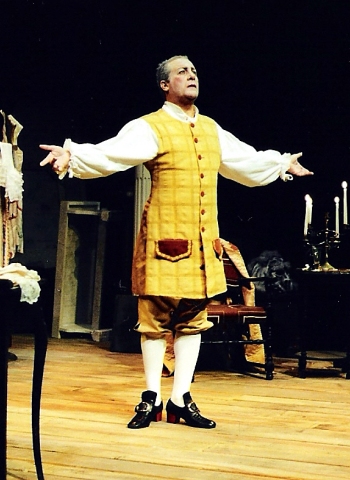 SALISBURY---After a nearly four year hiatus, Dr. T. Paul Pfeiffer, director of theatre at Salisbury University, brings his critically acclaimed one-man play Apology for the Life of an Actor back to the stage August 15-16.
Performances are 8 p.m. Saturday and 2 p.m. Sunday at the historic Milton Theatre, located at 110 Union Street in Milton, DE. Doors open 45 minutes prior to the show.
The play, which first premiered at SU in 1992, explores the memoirs of Colley Cibber, a real-life 18th century actor, theatre manager and poet who rewrote Shakespeare "in order to make him fitter for the stage." Mocked by his contemporaries, the Cibber character reviews his own history and marks the end of his career with tales of backstage gossip, and onstage triumphs and disasters.
Pfeiffer, the play's author who originally starred as Cibber, offered the script to the Royal Shakespeare Company in 1999. This lead to two successful runs in Stratford-upon-Avon, under the direction of the late Michael Mundell and with the veteran British actor David Ryall playing Cibber.
Critics lauded the play: "There is so much here to delight an audience: the rivalries, the malice, the joy of performance and the naughty gossip all brought swiftly into the house. … All of it is glorious and, if you love theatre, you will be in Seventh Heaven, and that I promise," said Richard Edmonds of the Birmingham [England] Post.
When Apology was featured at Scotland's Edinburgh International Fringe Theatre Festival in 2000, Pfeiffer again starred. In 2004, he won a Maryland State Arts Council Individual Artist Award for his performance.

Pfeiffer's Cibber is "both humble and vain, still brimming with love for his craft; a liar yet lovably roguish," said James Mulligan of The Scotsman. "With greasepaint and periwigs aplenty, it is a fascinating time travelogue, a hilarious and credible hymn of praise to the joy of entertaining."
"On the surface it's about this man's career," Pfeiffer said. "During the first half, he's preparing for his farewell appearance and talks with joy about life in the theatre. The second half, after his last performance, is darker, more cynical and bitter. Underneath is something I think a lot of people can relate to. I identified with the aspect of Cibber's personality which called upon his tenacity and diplomacy to survive in a highly competitive industry and to pull himself up above his 'roots' to a level of great success."
An SU alumnus, Pfeiffer earned his M.A. in theatre from University of Maryland College Park and his Ph.D. in theatre from The Union Institute in Cincinnati, OH.
"I am excited about this performance and the partnership with Milton Theatre because it opens new doors for SU theatre and for Delaware communities to learn of our theatre," Pfeiffer said. "It is a wonderful venue. I look forward to working closely with this group to develop not only their own active regional theatre but to share with them in enriching the lives of those in lower Delaware and beyond."
Admission is $18 for adults; $15 for students under 18 or seniors over 65. To purchase tickets, call 302-684-3400 or 1-800-838-3006, or visit www.miltontheatre.org.