Wednesday, May 4, 2016
Peter Lim Places in Rockville Competition for Solo Piano and Solo Strings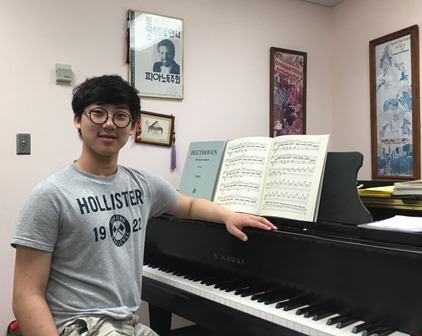 SALISBURY, MD---Peter Lim, a student studying piano through Salisbury University's PRESTO performing arts outreach program, recently placed in the Rockville Competition for Solo Piano and Solo Strings.

Lim, a junior at James M. Bennett High School, was one of 16 students selected from 435 entrants throughout Maryland to perform at the competition's Winners Recital on Friday, May 6, at Montgomery College in Rockville, MD.

Upon coming to the U.S. from his native South Korea, Lim had difficulty finding a teacher to continue his piano studies. He joined the Salisbury Youth Orchestra (SYO), directed by Dr. Jeffrey Schoyen of SU's Music, Theatre and Dance Department, who introduced him to PRESTO.

Through the program, he studies with Dr. Linda Cockey, also of the Music, Theatre and Dance Department. Private donors have helped fund his lessons.



Locally, he has played with Classics for a Cause, James M. Bennett High School's annual Rock 'n' Roll Revival and the SYO. He performs as part of this semester's PRESTO recitals, scheduled at 5 and 7 p.m. Tuesday, May 17, in the Great Hall of Holloway Hall. Admission is free and the public is invited.

Through PRESTO, students of all ages and abilities take music and theatre classes with SU faculty and students, and area musicians and performers. A limited schedule is offered in the summer, and full classes resume next fall.

For more information call 410-548-2985 or visit the PRESTO website at www.salisbury.edu/musicdept/presto.