Tuesday, March 29, 2011
Perdue School Team Wins SIFE Ethics Competition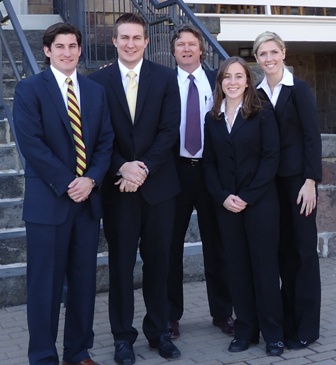 From left: Hunter McIntyre, John Stockel, Dr. Mo Brown, Kayla Smith and Brittany Droogh.
SALISBURY, MD---Salisbury University has earned a reputation for first-place finishes in varsity athletics such as field hockey and lacrosse. Now, a new championship event can be added to the list: ethics.
Students from SU's Franklin P. Perdue School of Business recently placed first at the Students in Free Enterprise (SIFE) ethics competition held at Mount St. Mary's University in Emmitsburg, MD. SIFE is sponsored by over 100 major corporations including BB&T, Wal-Mart, KPMG, Coca-Cola and Unilever.
Each student team was asked to develop and present a strategy to solve an ethical dilemma faced by a fictional chocolate factory considering purchasing cocoa from an African company accused of violating child labor laws.
The SU team's response was to encourage the company to implement a fair trade agreement enforced by a third party and offer a greater financial incentive for cocoa farms and plantations found not to be in violation of child labor laws.
Dr. Mo Brown, the team's coach, was impressed by the students' presentation.
"When they graduate, they are going to be presenting plans, proposals and ideas to colleagues, boards of directors and supervisors," he said. "This gets them used to working with teams and developing communication skills. It helps them solve problems and be creative."
Students on the SU team included Brittany Droogh from Ottawa, Canada; Hunter McIntyre of Highland, MD; Kayla Smith from Kent Island, MD; and John Stockel of Ellicot City, MD. They competed against others from China's Shandong Institute of Business and Technology, Penn State Abington, Mount St. Mary's University, McDaniel College and Eastern Mennonite University.
The SU win capped off the Perdue School's Ethics Week, which included classroom discussions and a talk by HealthSouth co-founder Aaron Beam, who served a prison sentence for his role in one of the biggest corporate frauds in recent history.
For more information call 410-543-6030 or visit the SU Web site at www.salisbury.edu.