Friday, March 8, 2013
Perdue School Recalls Bernstein Alumni, Expands Competition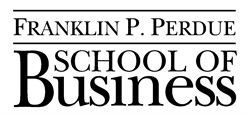 SALISBURY, MD---After 25 years of rewarding excellent student business plans, Salisbury University's Franklin P. Perdue School of Business has expanded its annual Bernstein Achievement Award into a three-part Entrepreneurship Competition. The new format offers over $20,000 in prizes to students.

Previously, Bernstein winners earned a top prize of $5,000, which many have used to spark successful endeavors.

Alumnus Tim McFadden, for example, was a finalist in 2004 and, in 2005, won the grand prize for his proposal for a glass blowing studio. The management and marketing major now owns McFadden Art Glass, a custom glassblowing studio and gallery, on Eastern Avenue in Baltimore. Featured several times in The Baltimore Sun, he uses his retrofitted space to create chandeliers, vessels, bowls and sculptures, and to teach glassblowing classes.

.: Related Sites :.

.: Related News :.

In 2007, Jennifer Layton, an M.B.A. student and training coordinator for the Small Business and Technology Development Center, won the $1,000 second-place award for her plan for Layton's Chance Winery. That year, her family diversified their farming operation and planted their first grapes. The winery opened in 2010 and has since expanded to 14 acres of grapes and nine varieties of wine.

Perdue School graduate John "Zack" Kline also started a company based on his plan, which won an honorable mention in 2010 and, with the incorporation of judges' feedback, a grand prize in 2011. The owner of the environmentally friendly A.I.R. Lawn Care service, he has received mentor support from STIHL Inc., the PLANET professional landcare network and Independent We Stand, a local business support network.
For other winners, competition participation was only the beginning of various business ventures, proving that, as a Bernstein judge once said, "while most businesses fail, most entrepreneurs do not."

Janet Lynne Wilson, a graduate of the Charles R. and Martha N. Fulton School of Liberal Arts, won the top prize in 2003 for her business proposal for an ornamental detailing service for cars. Today, Wilson is an inventor and entrepreneur who recently received patent approval for her "Beach Um" canopy product, which she is actively selling to wholesale and retail markets.

Similarly, M.B.A. graduate Ryan Chacon, who won the top prize in 2010 for a plan for an online educational network, has since been inspired by other Web-based ideas. His original proposal, with fellow students Hunter McIntyre and Charles Gray, was to create Knollege LLC to allow college students to share ideas and questions. Today, he and another partner have received $40,000 in funding and incentives for their new company Stupil, a social e-commerce platform that enables instant buying, selling and fundraising through an online video player. Start-Up Chile, a South American-based business accelerator, selected Chacon's idea out of 1,400 submissions.

Open to students of all majors, the Perdue School's new Entrepreneurship Competitions are scheduled Friday, April 19. To enter, students must submit proposals to PSBCompetitions@salisbury.edu by midnight Friday, March 15. Final business plans are due Monday, April 1.

For more information, including format details, proposal forms, guidelines and requirements, visit www.salisbury.edu/perdue/EntrepreneurshipCompetitions, or contact William Burke, competition director, at 410-677-5386 or wpburke@salisbury.edu.