Friday, April 12, 2013
Perdue School Hosts Expanded Entrepreneurship Competitions Friday, April 19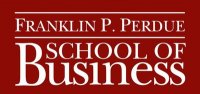 SALISBURY, MD---Salisbury University's Franklin P. Perdue School of Business hosts its expanded Entrepreneurship Competitions on Friday, April 19, in Perdue Hall.

A new "Invest in My Idea" poster session, allowing all 31 participants to visually share their business ideas for awards and prizes, is 8:30-10:30 a.m. on the first floor of Perdue Hall.

Fifteen winners move on to the "Gull Cage," held 11 a.m.-1 p.m. in the Robert and Rebekah Moyle Market Research Laboratory. In this "shark tank" competition, the selected students deliver short verbal pitches to judges about their ventures. Prizes include $4,000 for first place; $3,000 for second; $2,000 for third; and $1,000 for fourth.

Next, these top four finalists move on to the annual Bernstein Achievement Award for Excellence, which begins at 2:30 p.m. in the Bennett Family Auditorium. Vying for a grand prize of $10,000, they give presentations and answer questions about their full business plans.

An awards ceremony immediately follows at 5:30 p.m. in the Atrium. For more information, visit www.salisbury.edu/perdue/EntrepreneurshipCompetitions.