Friday, June 7, 2013
Perdue School Graduates Pass SHRM Assurance of Learning Assessment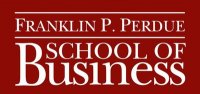 SALISBURY, MD---Two recent graduates of Salisbury University's Franklin P. Perdue School of Business recently passed the Society for Human Resource Management's Assurance of Learning Assessment.
They are Mary Dempsey of Columbia, MD, and Suzanne Ury of Lusby, MD. Dempsey earned her B.S. in management from SU in May. Ury received her B.S. in management from SU in December.
The Assurance of Learning Assessment consists of 160 multiple-choice questions, about one-third of which pose scenarios to test the students' ability to apply human resources knowledge. The test is considered a national benchmark for graduating students in human resources-related fields. Those who pass receive a Certificate of Learning.
"These kinds of accomplishments demonstrate that the professors in human resources at SU are offering a high-quality educational experience at an affordable price," said Dr. Frank Shipper, chair of SU's Management and Marketing Department.
For more information call 410-543-6030 or visit the SU Web site at www.salisbury.edu.