Friday, November 22, 2013
Perdue Faculty Examine SRC Holdings in 'Journal of Business Case Studies'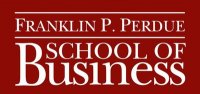 SALISBURY, MD---Management and Marketing faculty in Salisbury University's Franklin P. Perdue School of Business recently published an article on the benefits of employee ownership in the Journal of Business Case Studies.
The paper, co-authored by Drs. Vera Street, Marc Street, Christy Weer (also the associate dean of the Perdue School) and Frank Shipper, is entitled "SRC Holdings: Winning the Game While Sharing the Prize."
The article examines how Jack Stack, CEO of SRC Holdings Corporation, a well-known manufacturing company converted the business into an employee-owned firm in its early stages by implementing an employee stock ownership plan. As a result, it has not only been extremely profitable, but also has stimulated employee morale, resulting in long-tenured employees.
Additional studies by SU's management and marketing faculty have been referenced by national media, including MSNBC and The Wall Street Journal, and featured on the Aspen Institute's CasePlace website.
For more information call 410-543-6030 or visit the SU website at www.salisbury.edu.